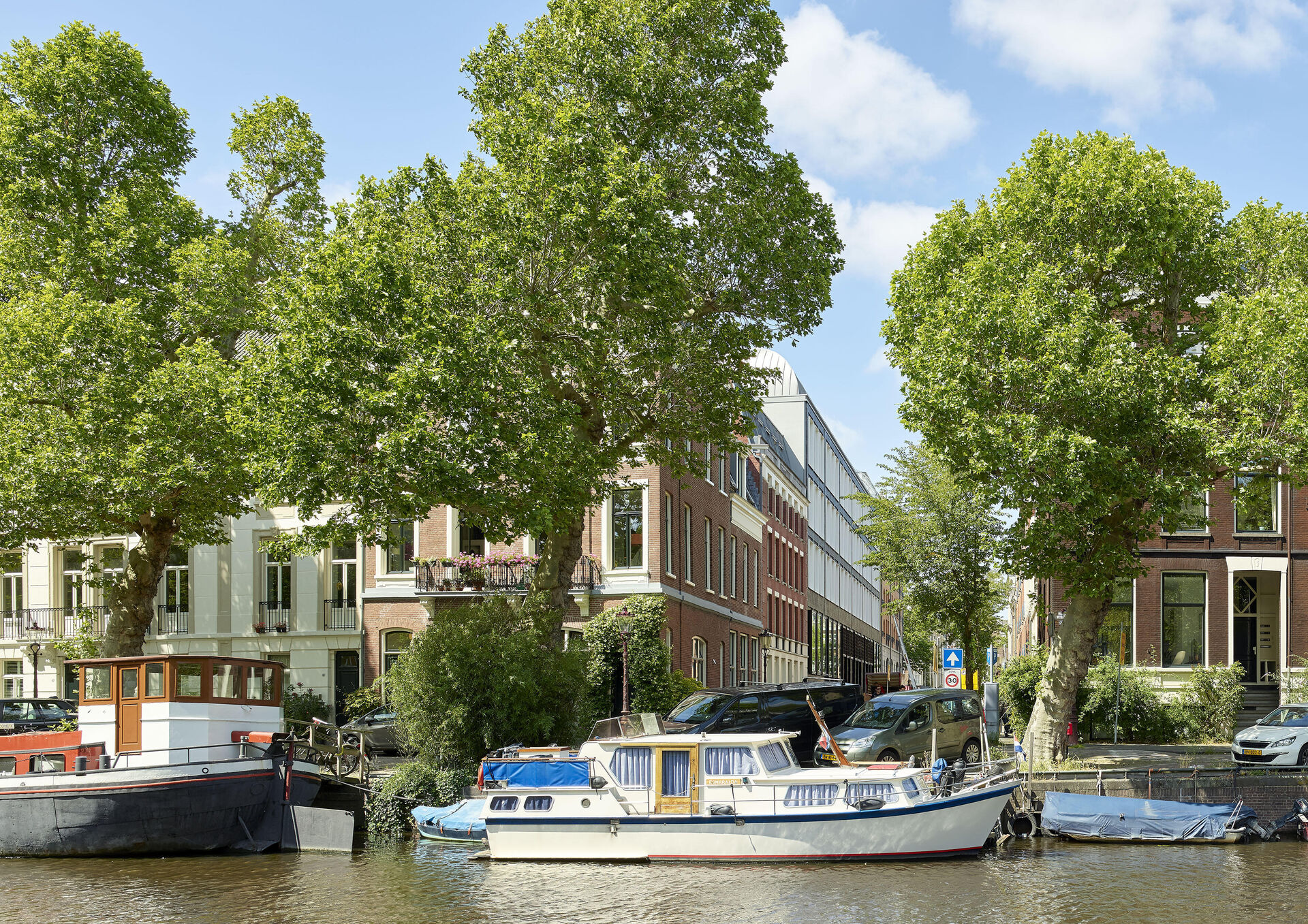 Office
Transformation
Sustainability
An office building dating from the 1970s with a car park in the centre of Amsterdam has undergone a complete metamorphosis. Functionally, spatially and energy-wise, the building no longer met the requirements of the modern-day. The architecture was modernised by stripping the existing building right down to the concrete skeleton and by fitting new façades and a new interior. In addition, two further storeys were added. A challenging assignment, due to its sensitive location right in Amsterdam city centre.
The trapezoid building volume with façades on the Huidekoperstraat and Pieter Pauwstraat roads, used to consist of three car park storeys and three office storeys. As part of the renovation, the office space has been enlarged and the number of car parking spaces reduced. The extension on the roof, a zinc roof encompassing sculptural, triangular windows, affords spectacular views over the city. Part of the car park has been transformed into lettable space to improve the interface of the building with the street. The new double-height space on the ground floor features a generous reception and catering space. The flexible office floors facilitate workstations on the façade side and consultation and meeting rooms at the centre of the building. The entrance area has been upgraded and the traffic space with stairs and lifts has been completely renovated.
Design:

2017-2019

Client:

Bridges Real Estate

Location:

Amsterdam

Delivery:

2019
Advisors
PEAK Development
Techniplan
Strackee
LBP sight
Installer
Terberg Totaal Installaties
Other
STO (metselwerk)
Metadecor (aluminium)
Jansen ODS (stalen kozijnen)
Photography
Joep Jacobs
Ronald Tilleman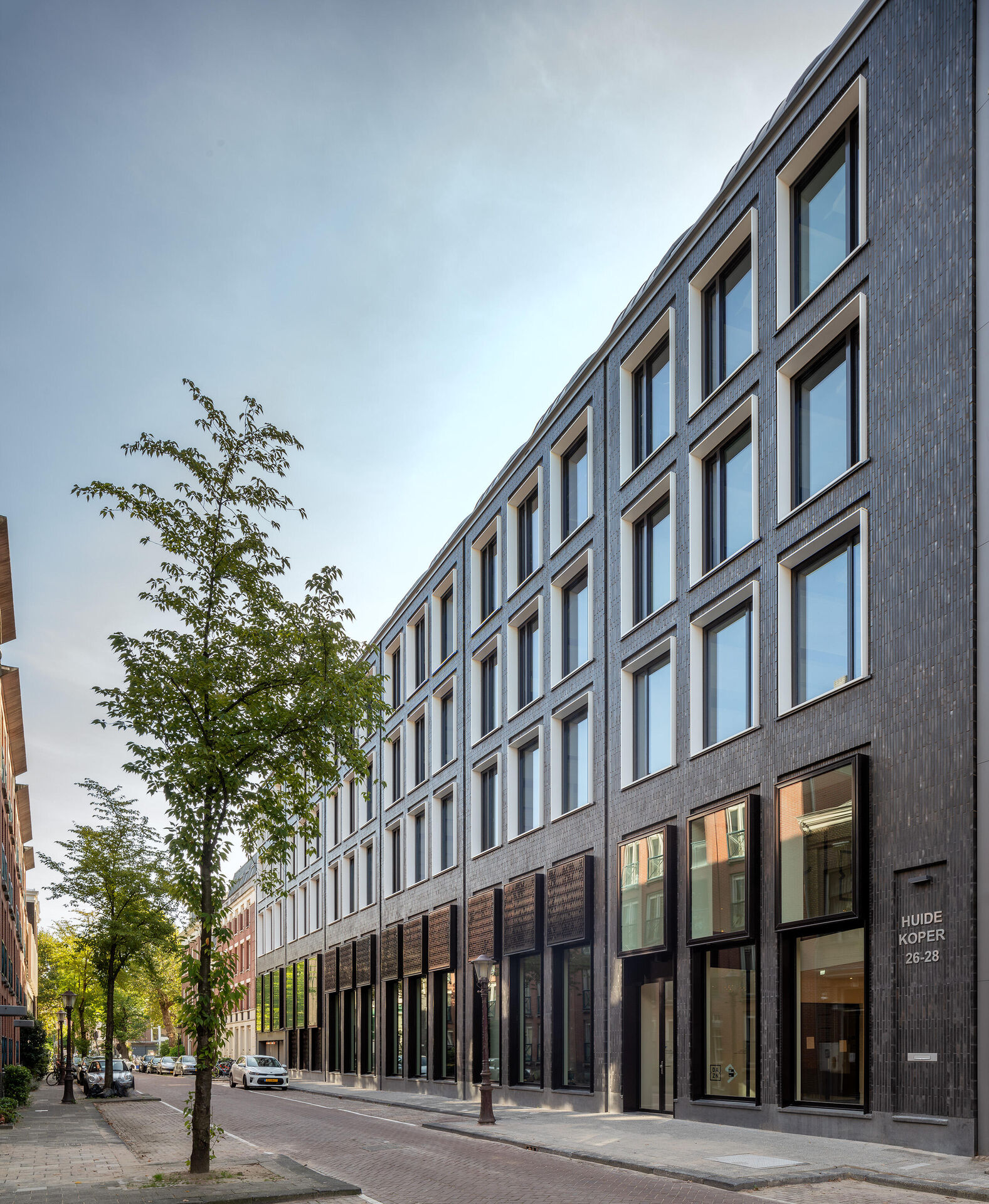 Facade on Huidekoperstraat
Video Huidekoper in overview perspective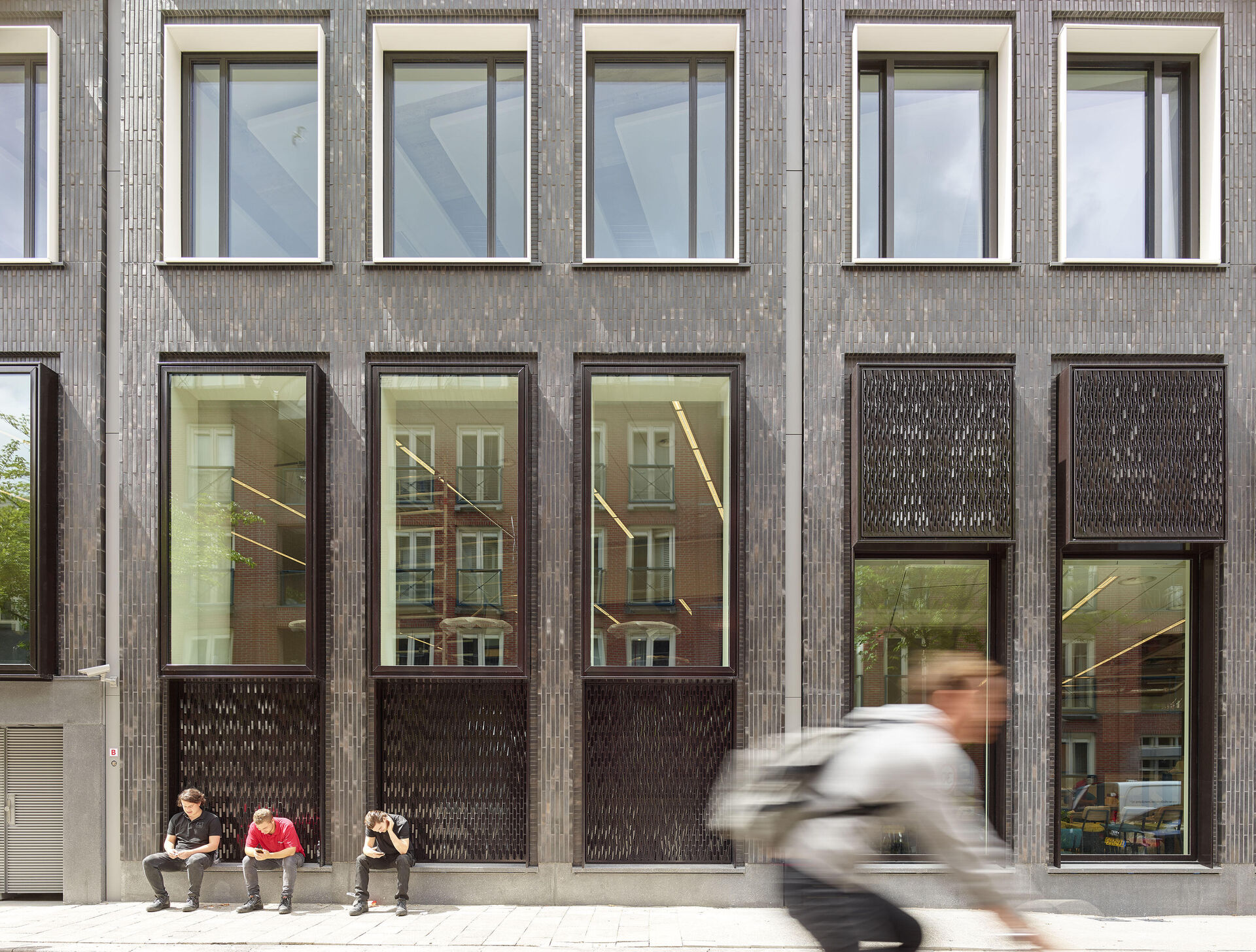 Fragment of facade Huidekoperstraat
The former architecture offered a closed appearance, partly due to the car parking facilities on the first three storeys, but now the building blends in naturally with the urban fabric of the city and connects with its environment at street level. The new façades feature a classical construction with a plinth, a middle section and a roof section. The ground floor has been designed spaciously, with six-metre-high façades, including specially designed grilles. The grilles work to hide the car park on the Pieter Pauwstraat side from view. Large planters have also been added in order to contribute to greening the city. The detailing has been worked out to result in a great deal of shadow-and-light effect and a refined interplay of lines. A heat pump installation, high insulation values of the shell and new, energy-saving systems have turned this into an office building with an extremely low energy use status. Furthermore, the roof is stacked with PV panels, invisible from street level. The building is all-electric and ready for a sustainable future.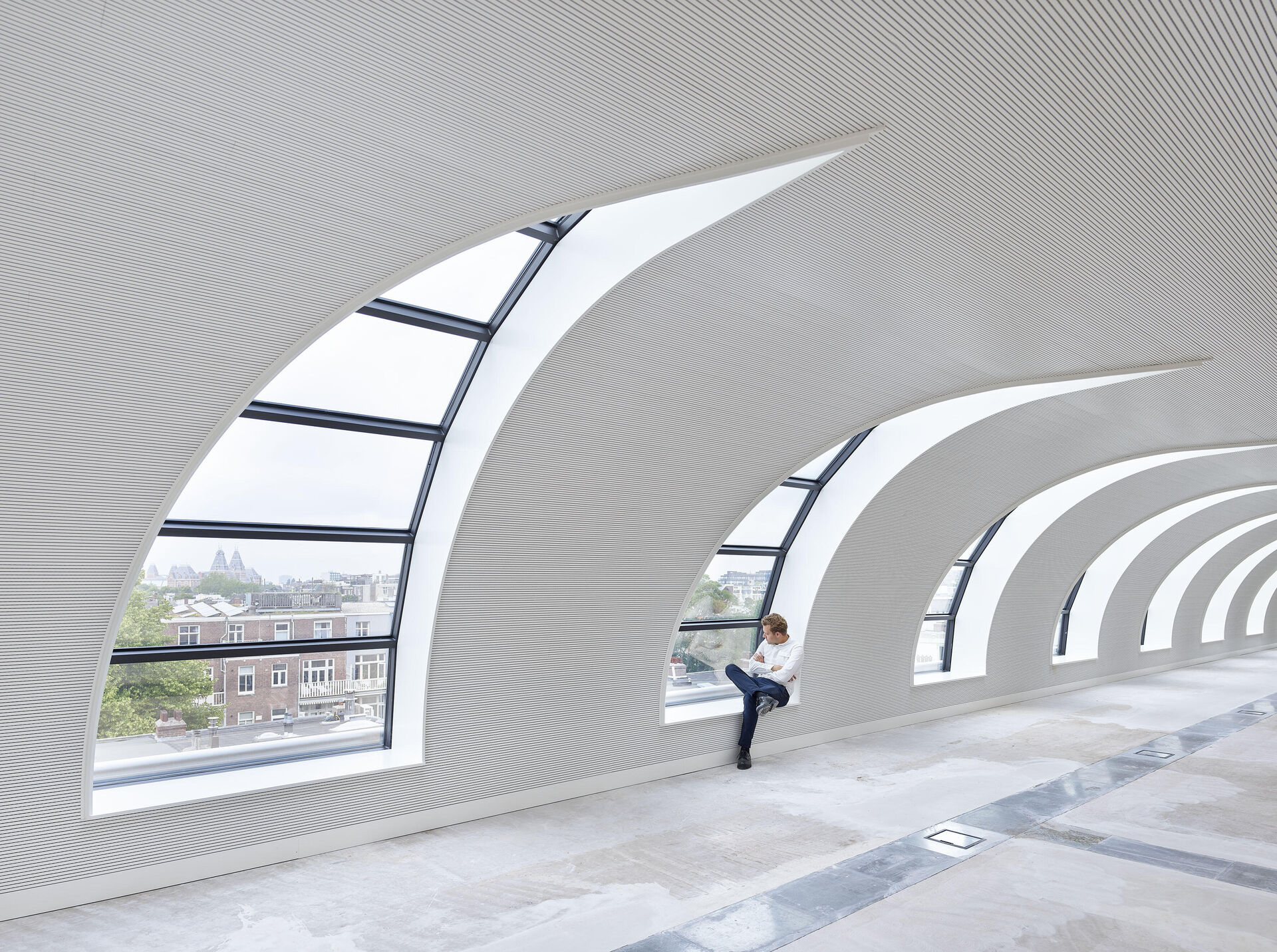 Rhythm of sculptural windows on the roof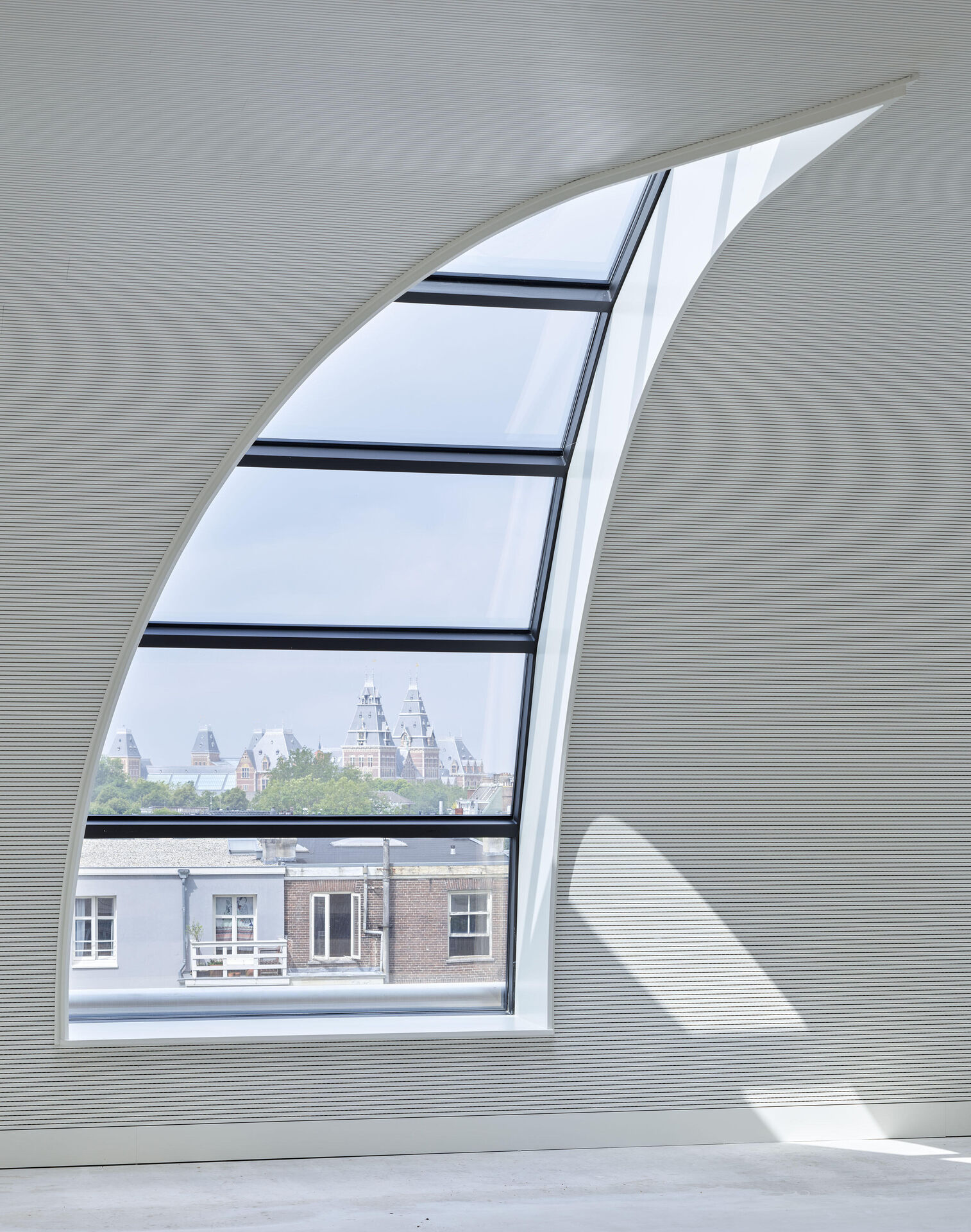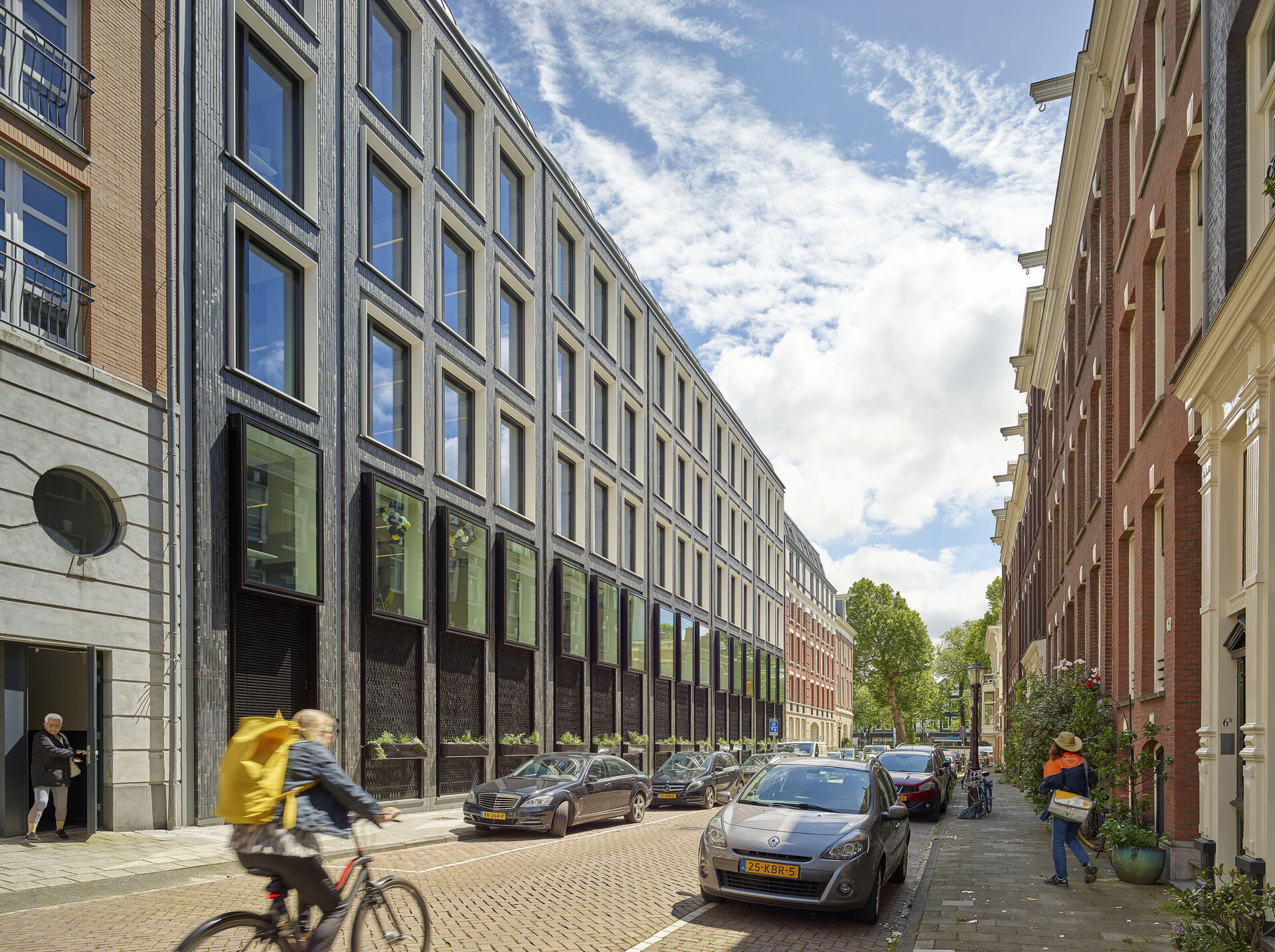 Facade on Pieter Pauwstraat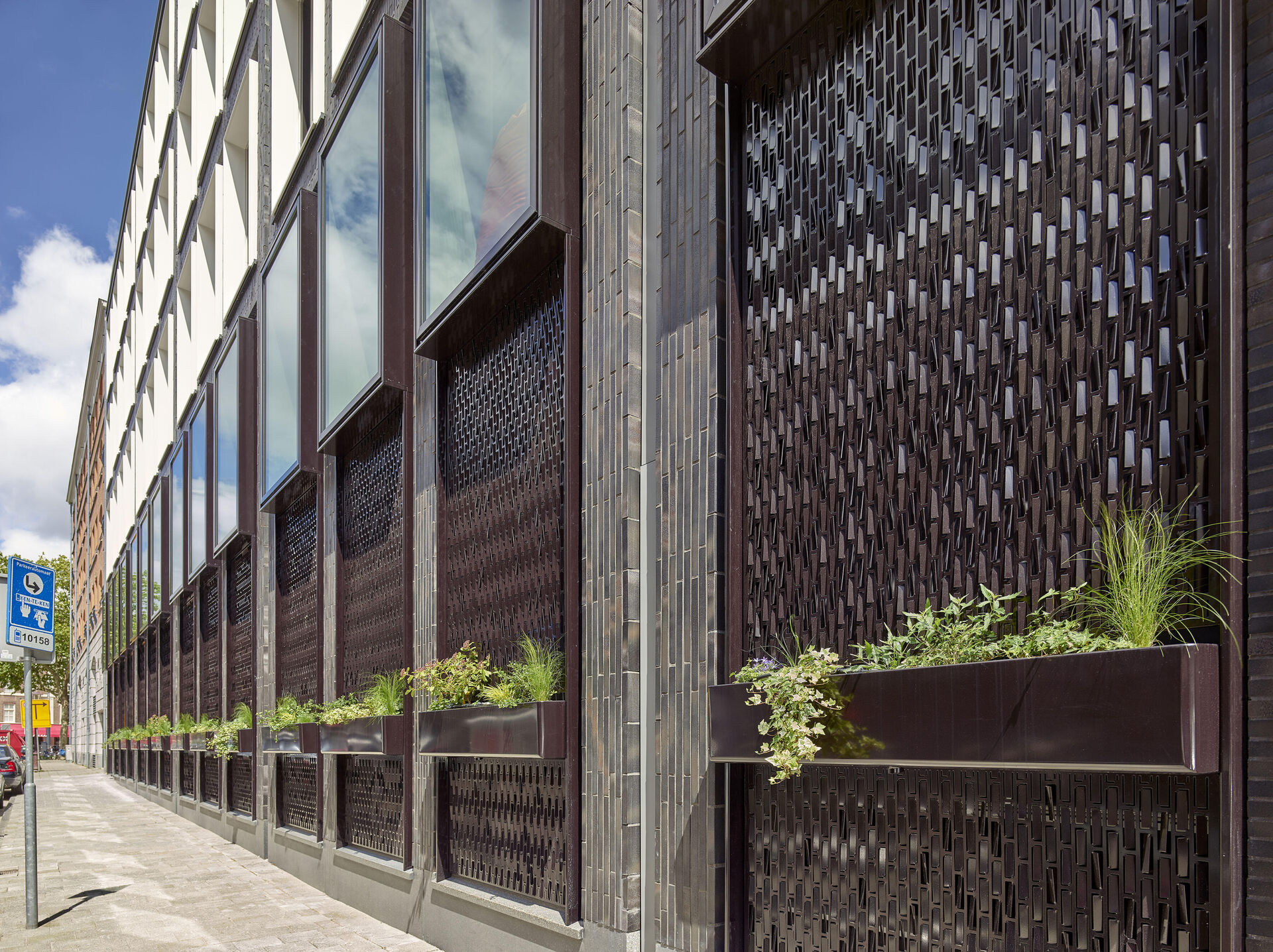 Integrated planters on the parking garage side
Facade Huidekoperstraat before-after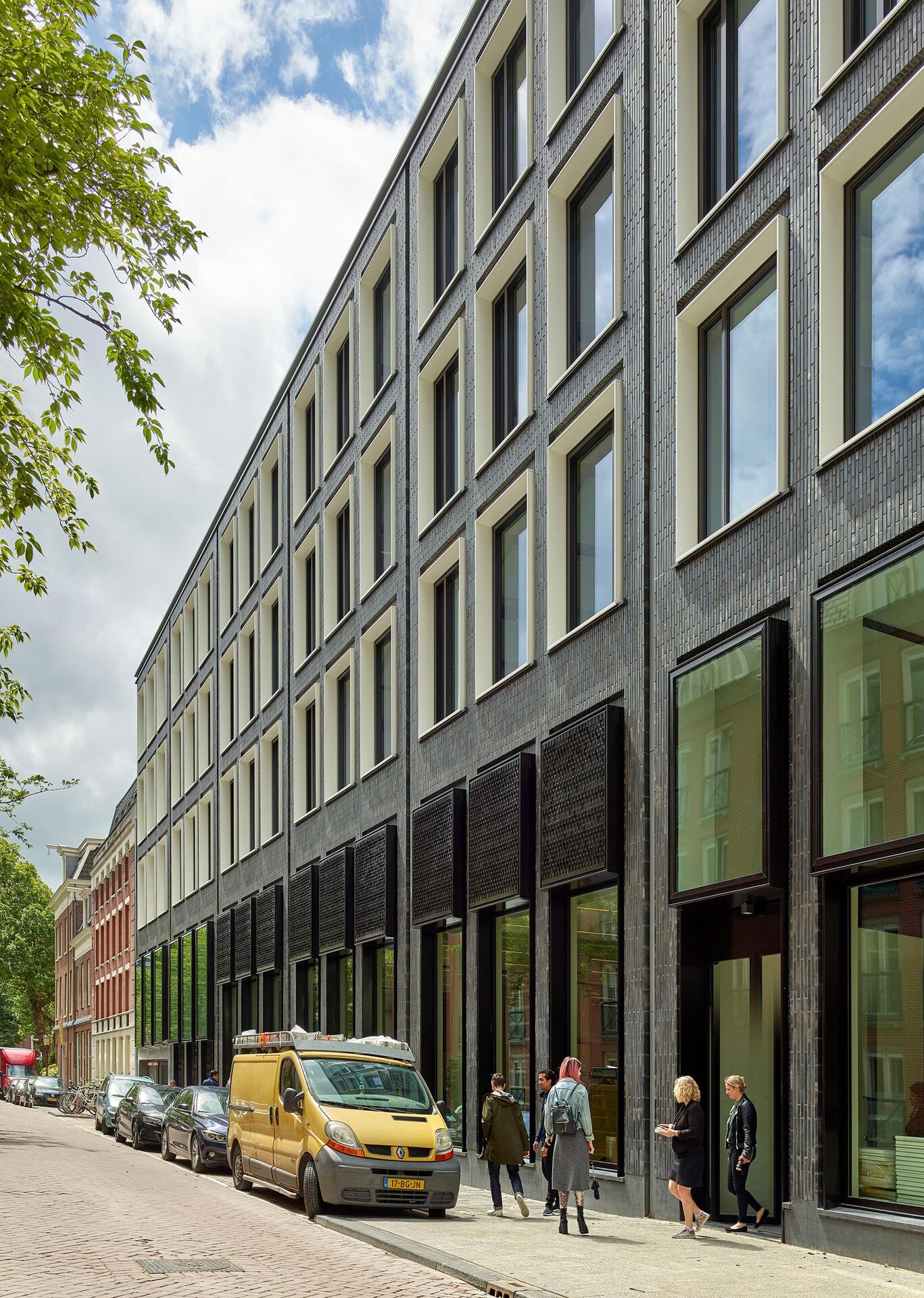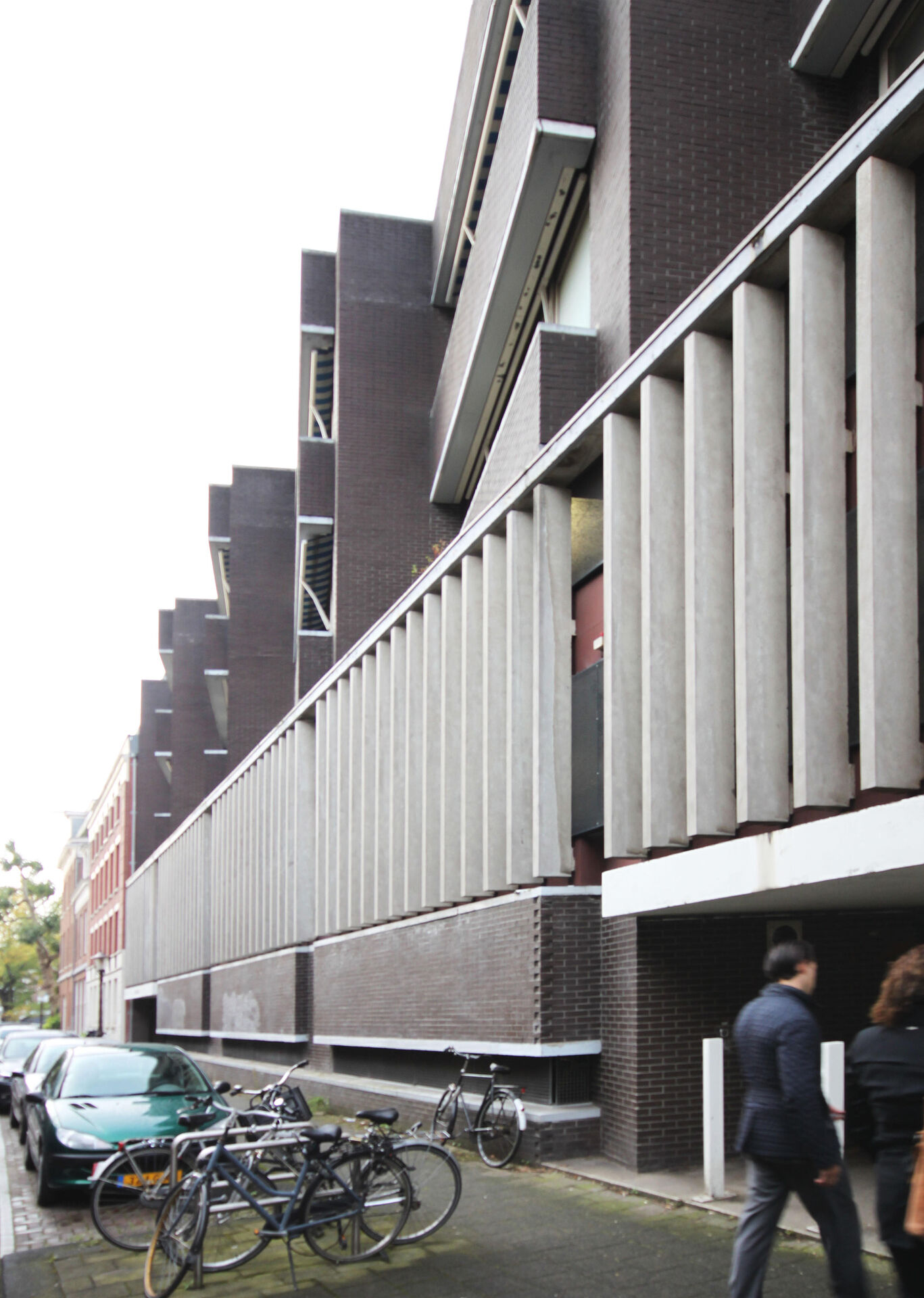 Situation before renovation
Situation after renovation
'The design process took account of the sensitive location in Amsterdam city centre, by detailing in such a way that as many elements as possible could be prefabricated. This meant that inconvenience to local residents was kept to an absolute minimum.'
Janneke Bierman, onwner-director and project architect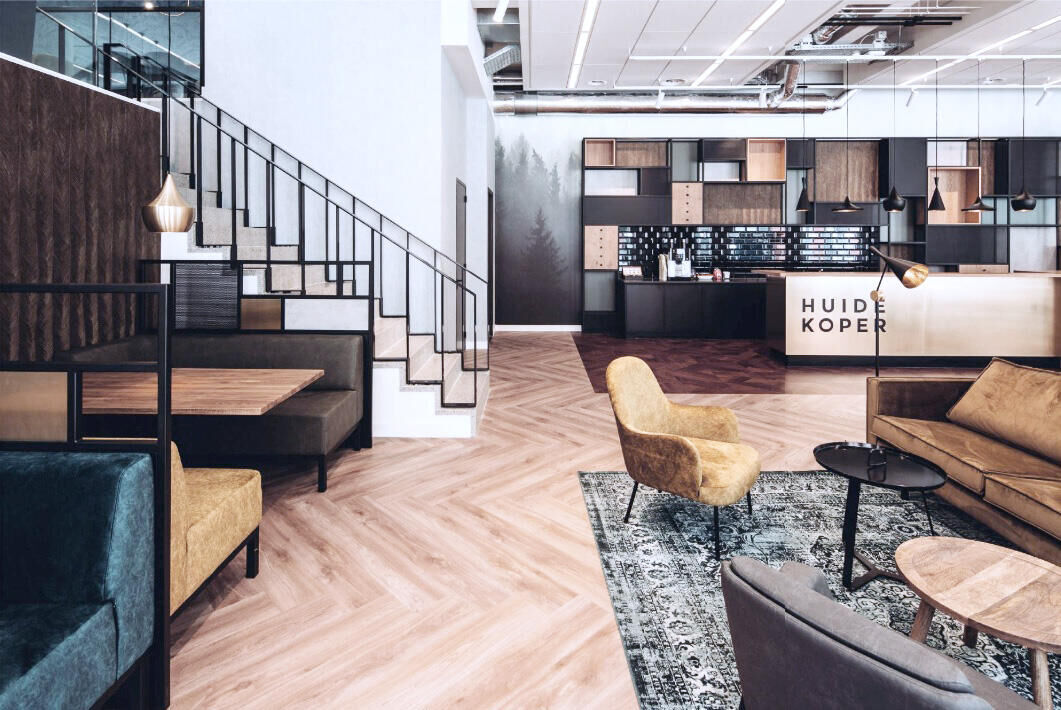 Catering interior on the ground floor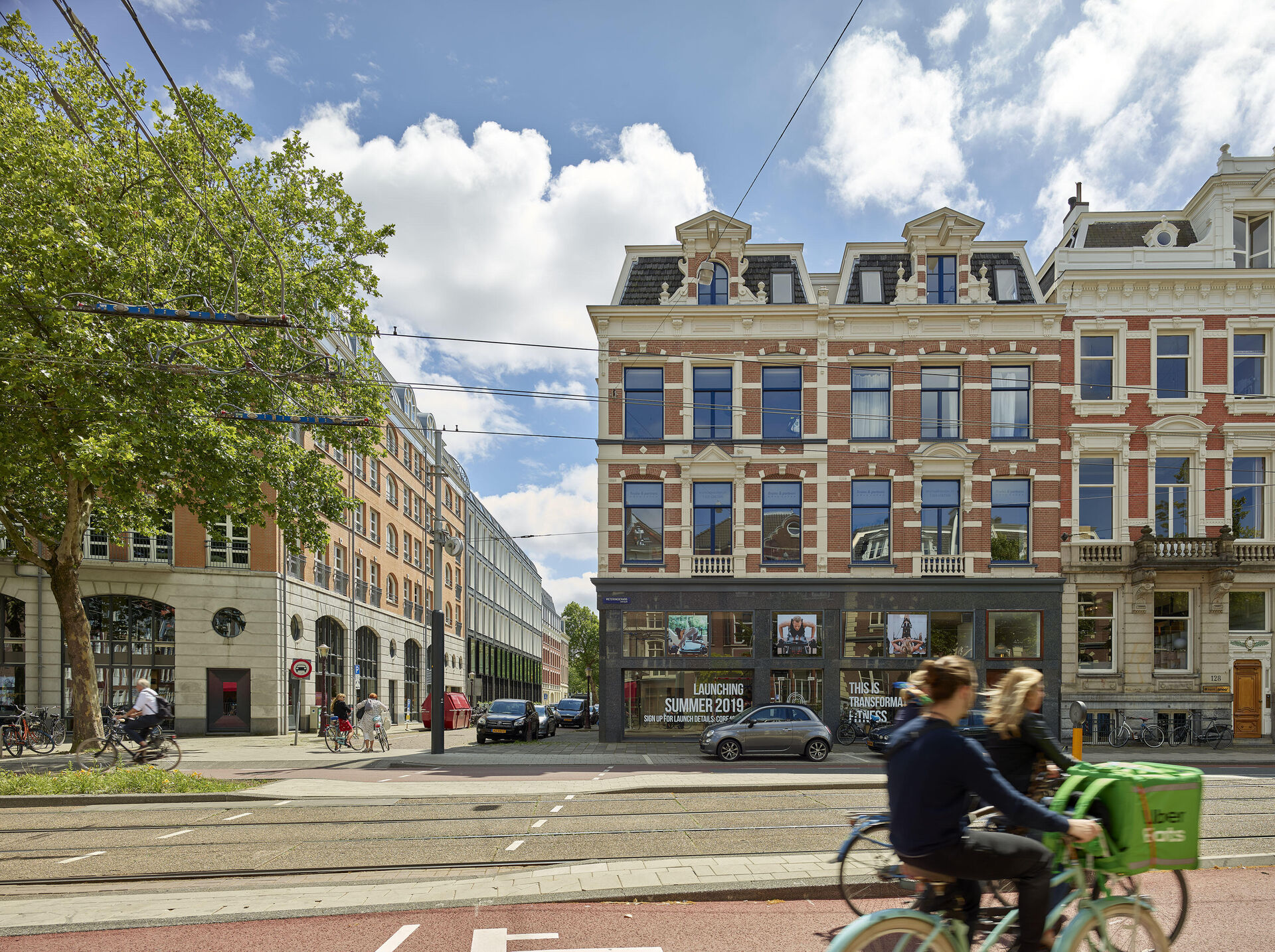 View of facade Pieter Pauwstraat