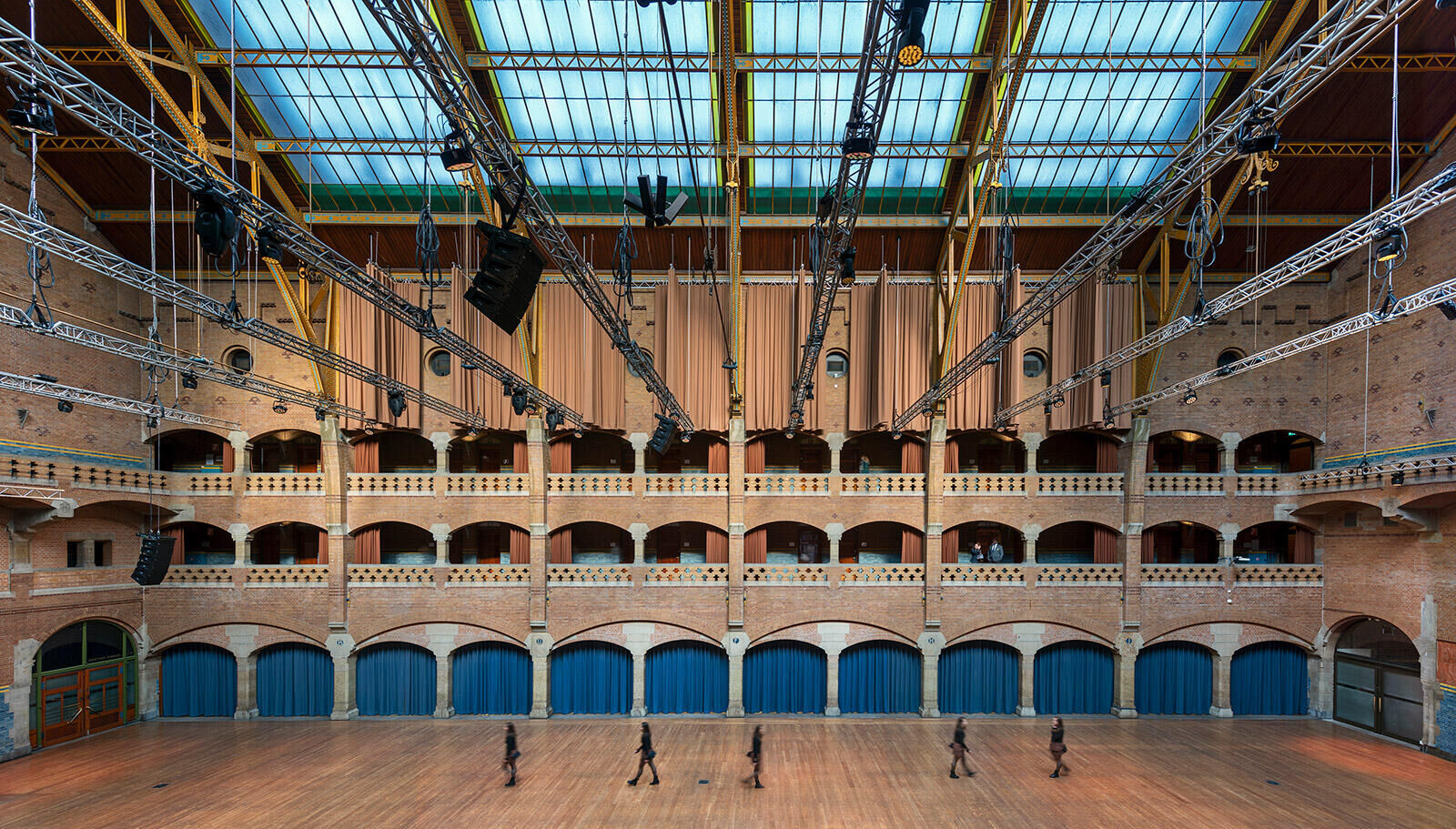 Culture
Public
Interior
Restoration
Advice
The realisation of a new entrance and reception area, a new logistical backbone and the addition of exhibition rooms in the basement as well as a café and shop complement the renovation of the main public areas and multifunctional spaces to rejuvenate de Beurs van Berlage Conference, Events and Exhibitions Centre as a public attraction. Intelligently and carefully designed interventions have improved the reception area, as well as the experience, routing and functionality of the building. Modern materials and colours surprisingly and respectfully complement the architectural heritage of prominent Dutch architect Berlage.
The Amsterdam Commodity Exchange was designed in 1896 by H.P. Berlage and has been one of the most important public buildings in Amsterdam since its opening in 1903. At the request of the CV Beurs van Berlage, the national monument has now been transformed into a 'Palazzo Pubblico' - a contemporary conference, meeting and events centre with offices, restaurants and an exhibition space. The cramped and not very inviting entrance on Damrak Square is now lighter and more open, partly due to a new entrance section and renovation of the lobby. The reception spaces have been redesigned, the routing has been improved and lettering has been added to the façade. New staircases and lifts have been integrated, the systems technology has been restructured and a logistical backbone has been introduced.
Design:

2013-present day

Client:

Beurs van Berlage

Location:

Amsterdam

Delivery:

2016 (fase 1) - 2018 (fase 2)
Advisors
Huisman en van Muijen
Deerns
Reynoud Homan
Bremen bouwadviseurs
Peutz
DGMR
Bremen Bouwadviseurs
Contractor
Bouwbedrijf M.J. de Nijs en Zn.
Photography
Joep Jacobs
Roos Aldershoff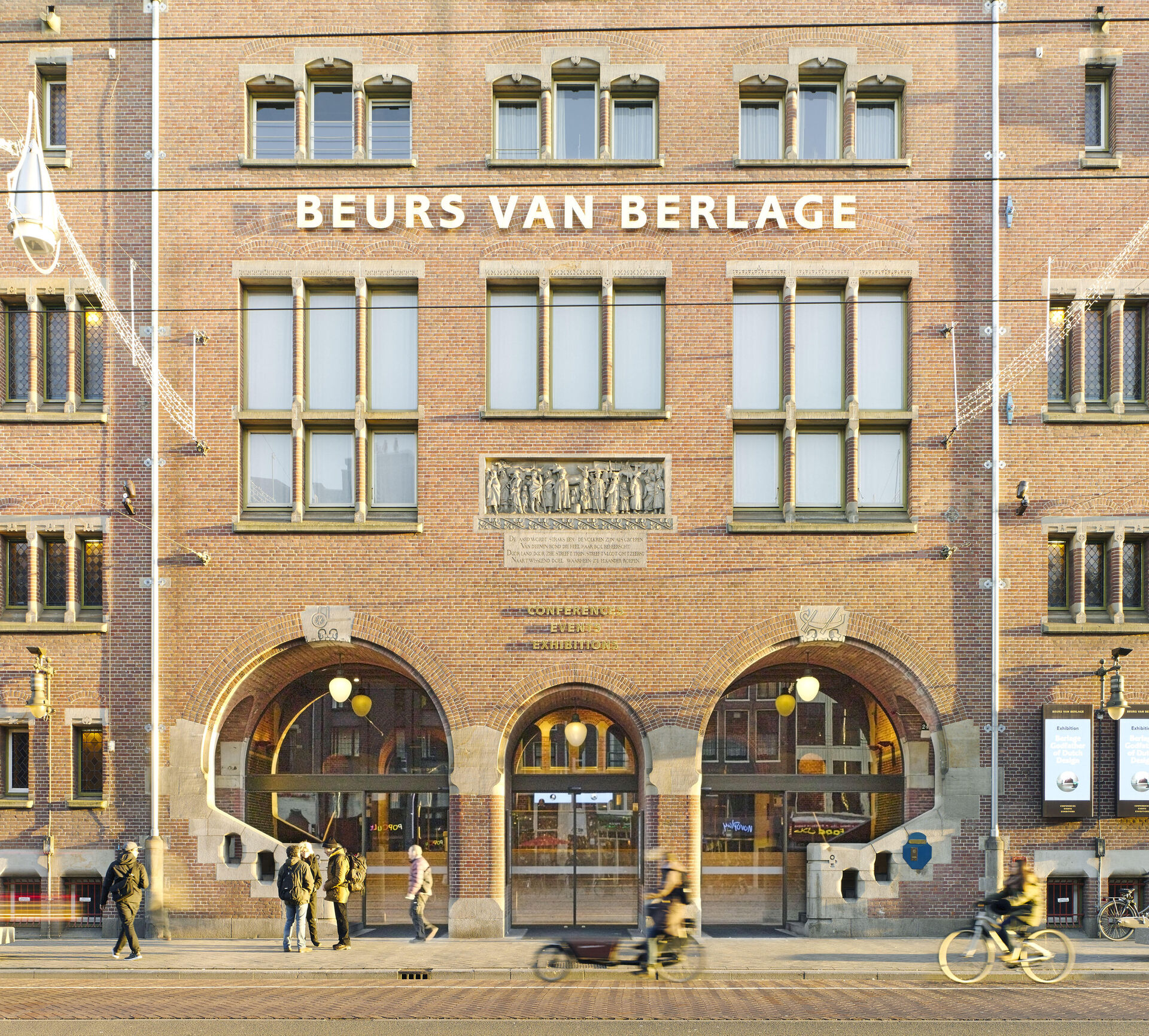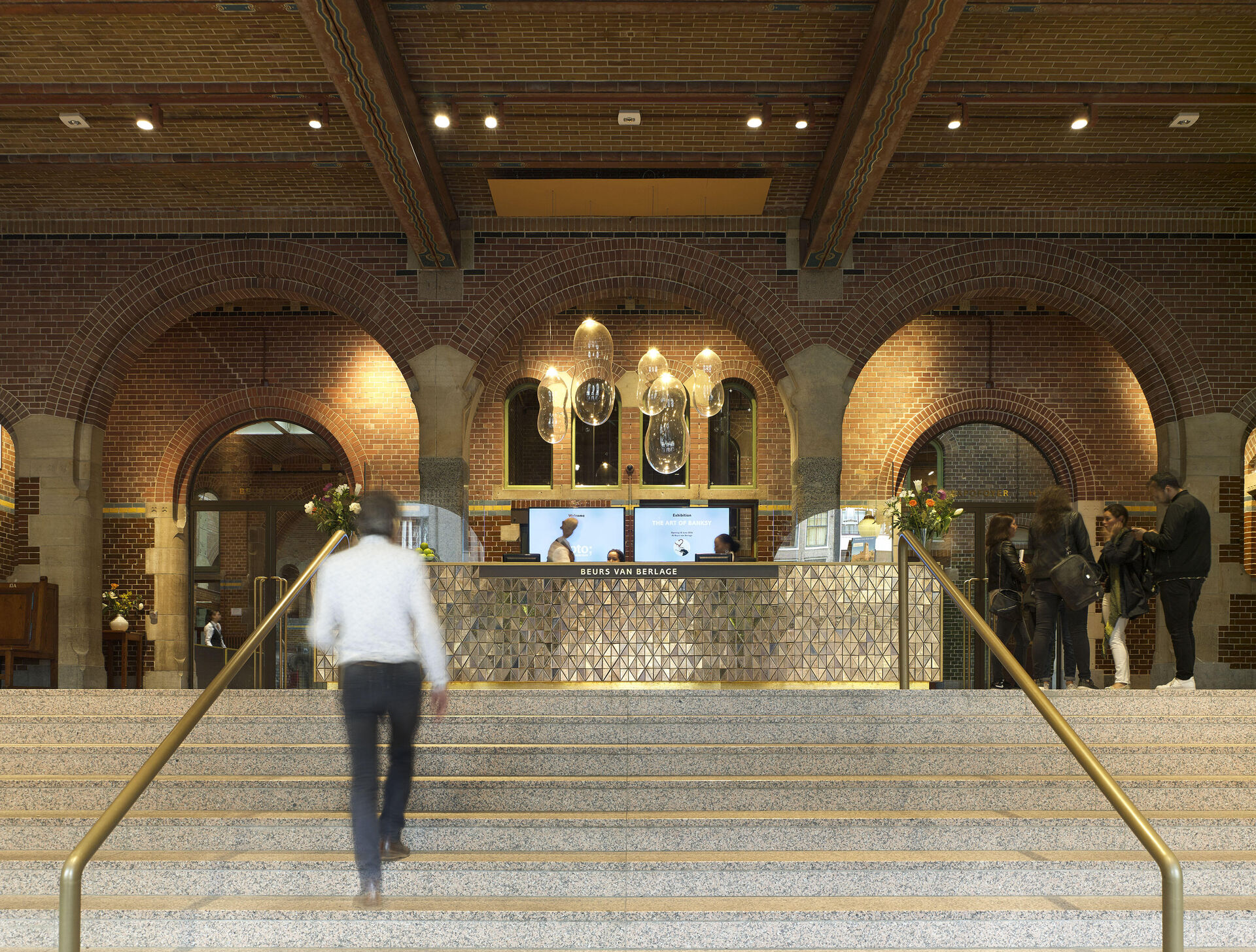 New staircase and reception desk in the entrance hall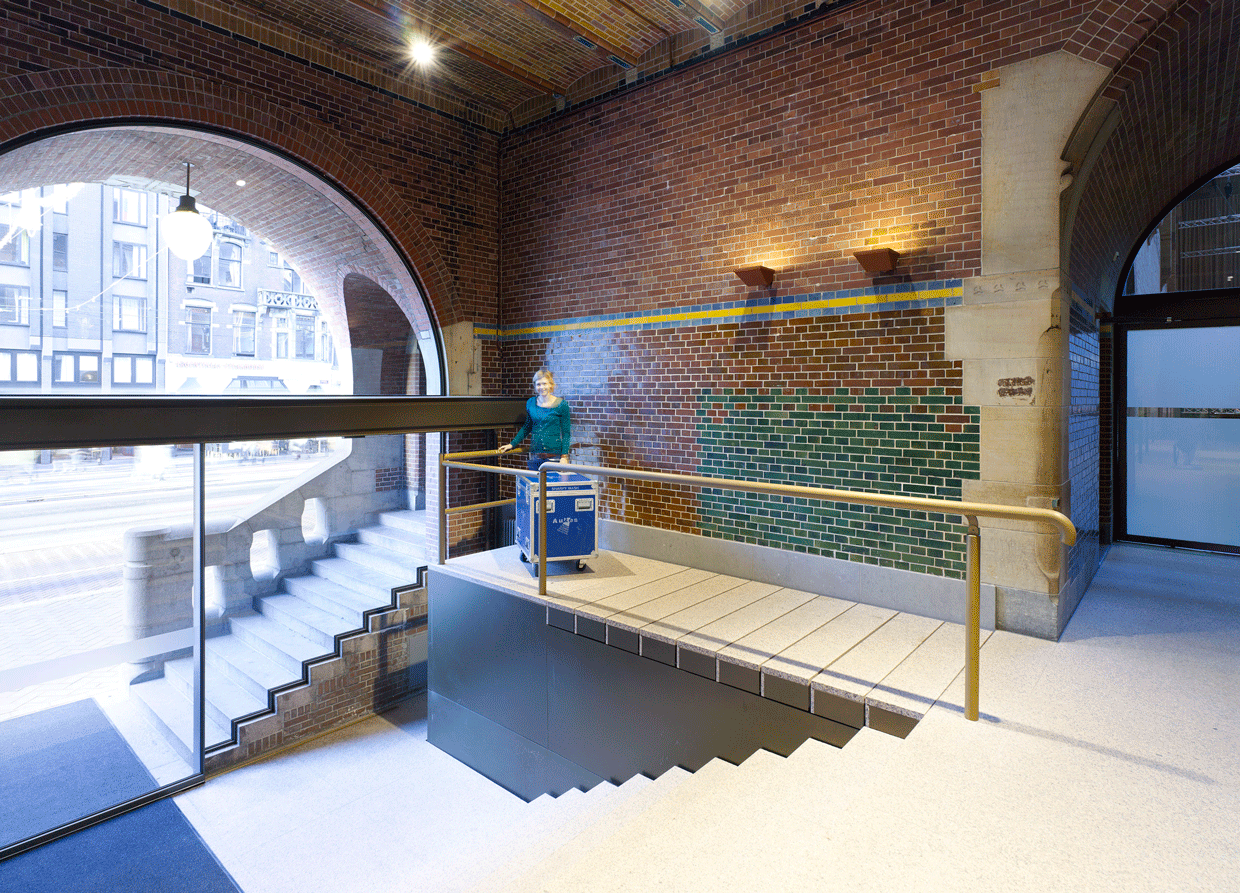 Carefully detailed lift in the entrance area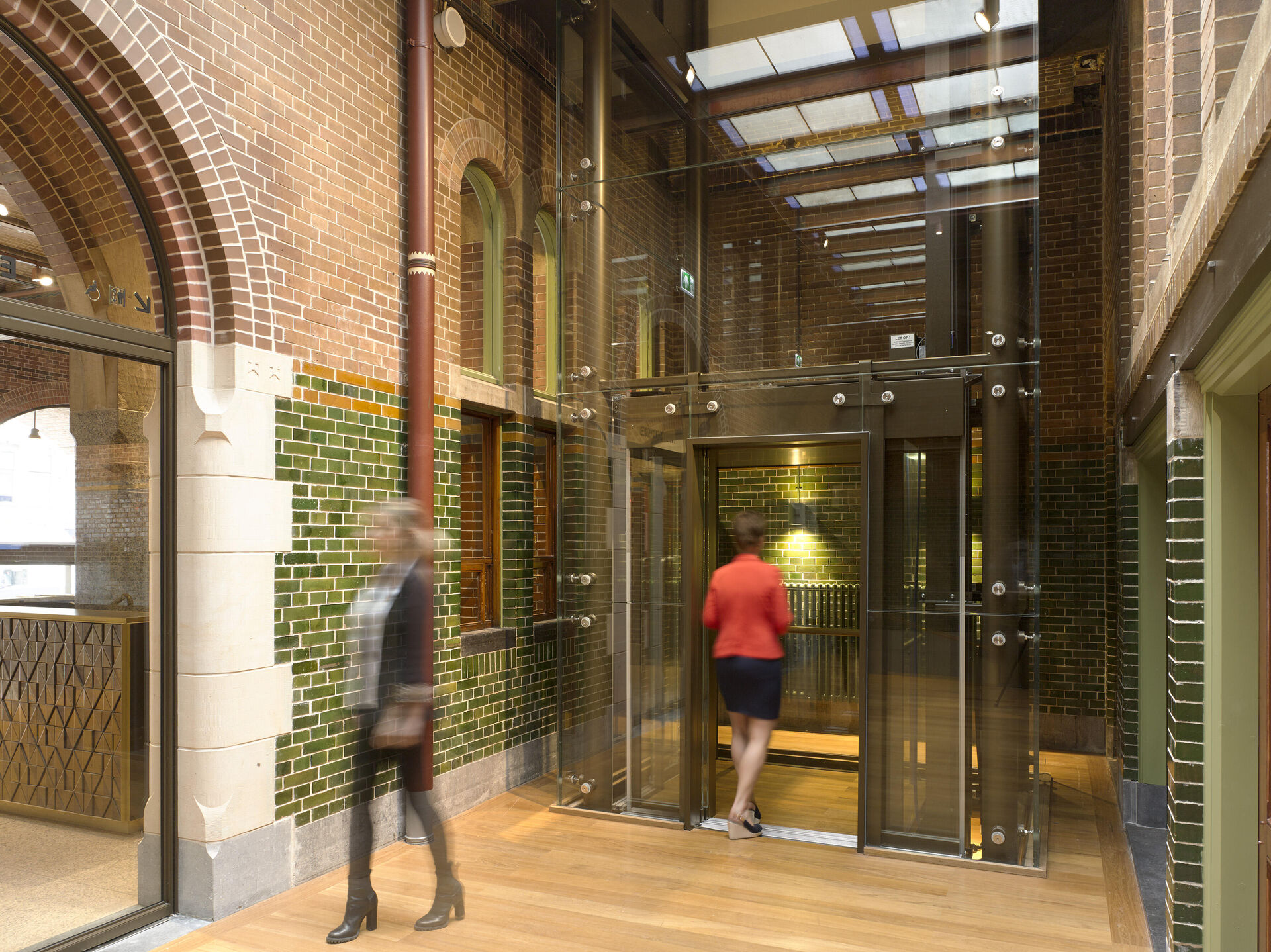 The new glass elevator between entrance area and exhibition space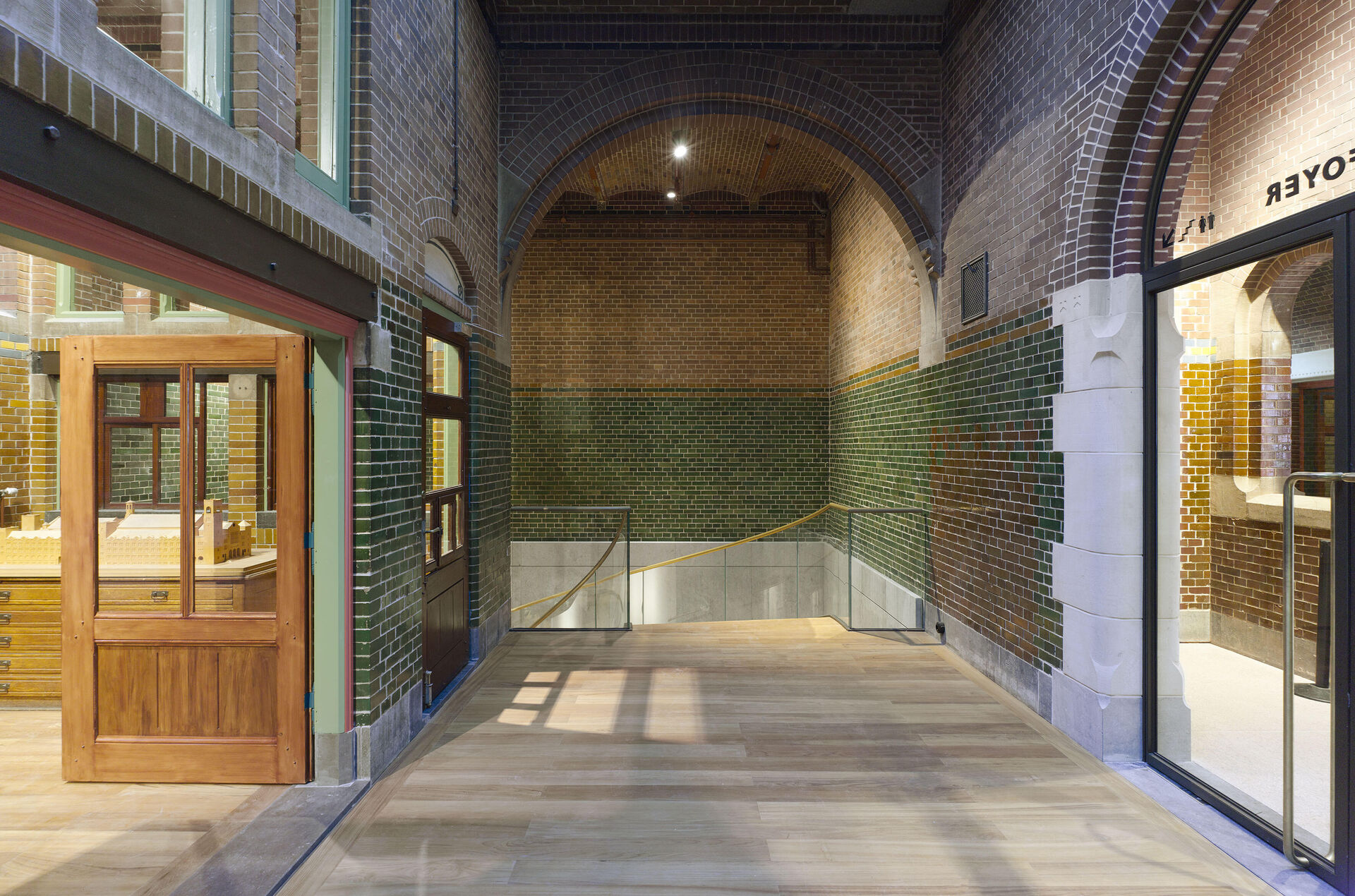 The new staircase fitted in with clean brickwork from Berlage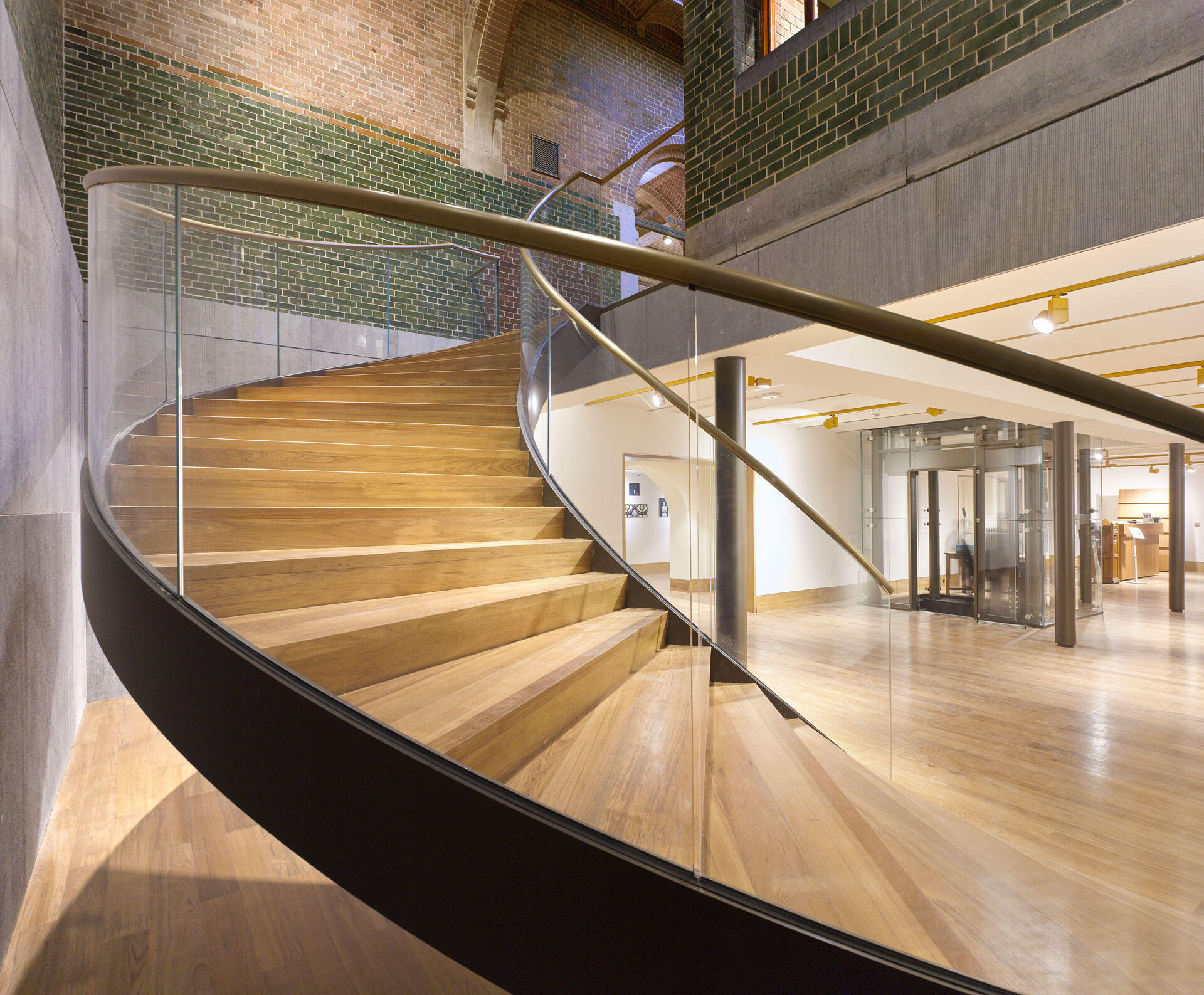 New staircase and glass elevator between entrance area and exhibition space
The basement has been renovated and now houses two exhibition spaces and a facilities area which are accessible via a new staircase and a glass lift. The Graanbeurszaal Hall has been completely renovated and designed as a multifunctional space for large receptions and meetings. A number of other rooms, such as the Veilingzaal Hall, the administration room and break-outs on the first floor have been renovated and redesigned. The Beurs van Berlage currently houses approximately 45 companies in a number of offices, flex workstations, two exhibition spaces, an auxiliary branch of the New York Film Academy, a grand café on Beursplein Square and a number of spaces for large international conferences and events. High-profile exhibitions and large-scale events are resulting in substantial visitor numbers and a growing popularity with the general public. The master plan developed by BiermanHenket was implemented in stages whilst the building continued to function. The building is still being improved and made more sustainable in an annual step-by-step process.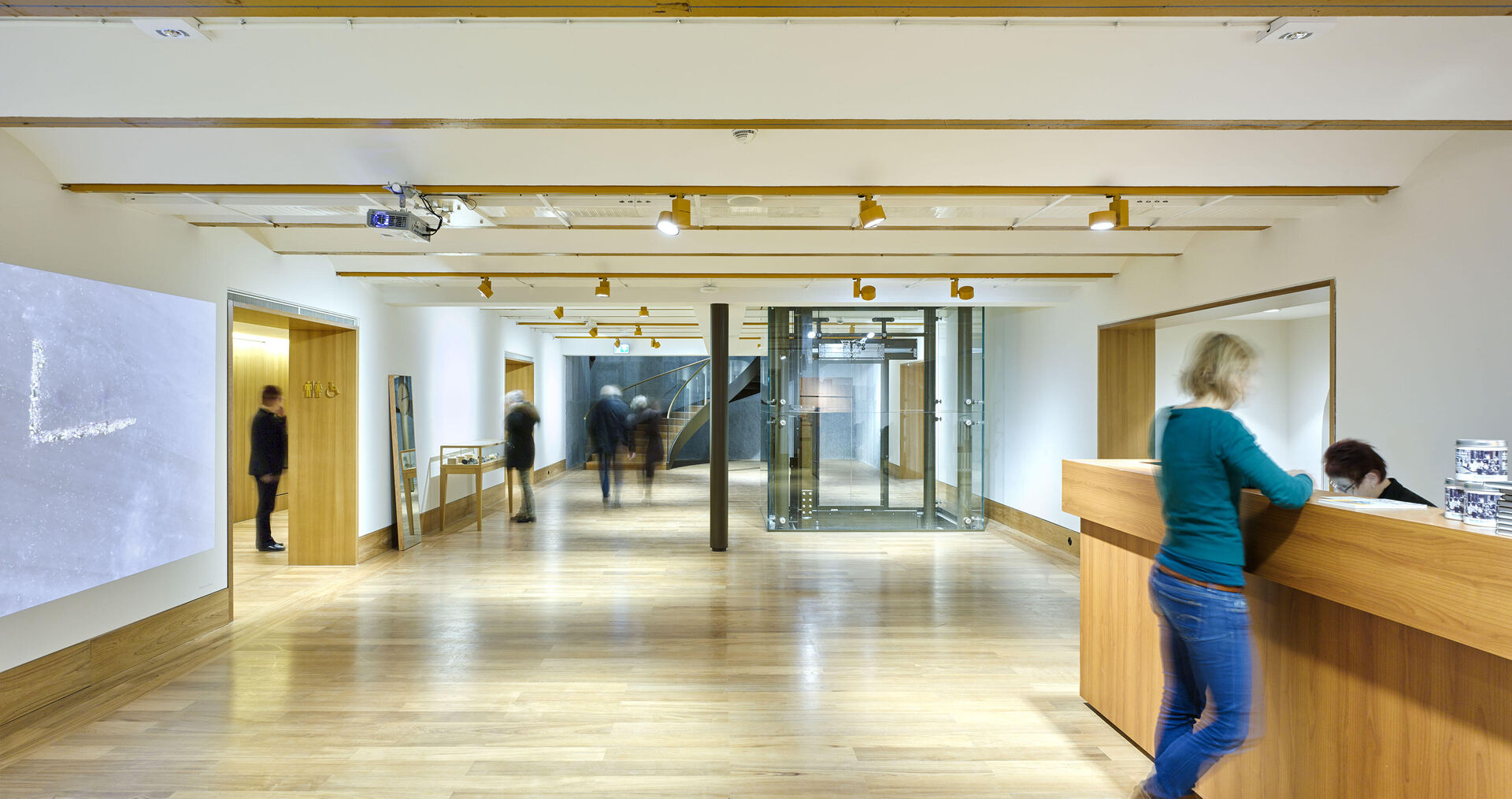 Reception in the basement exhibition room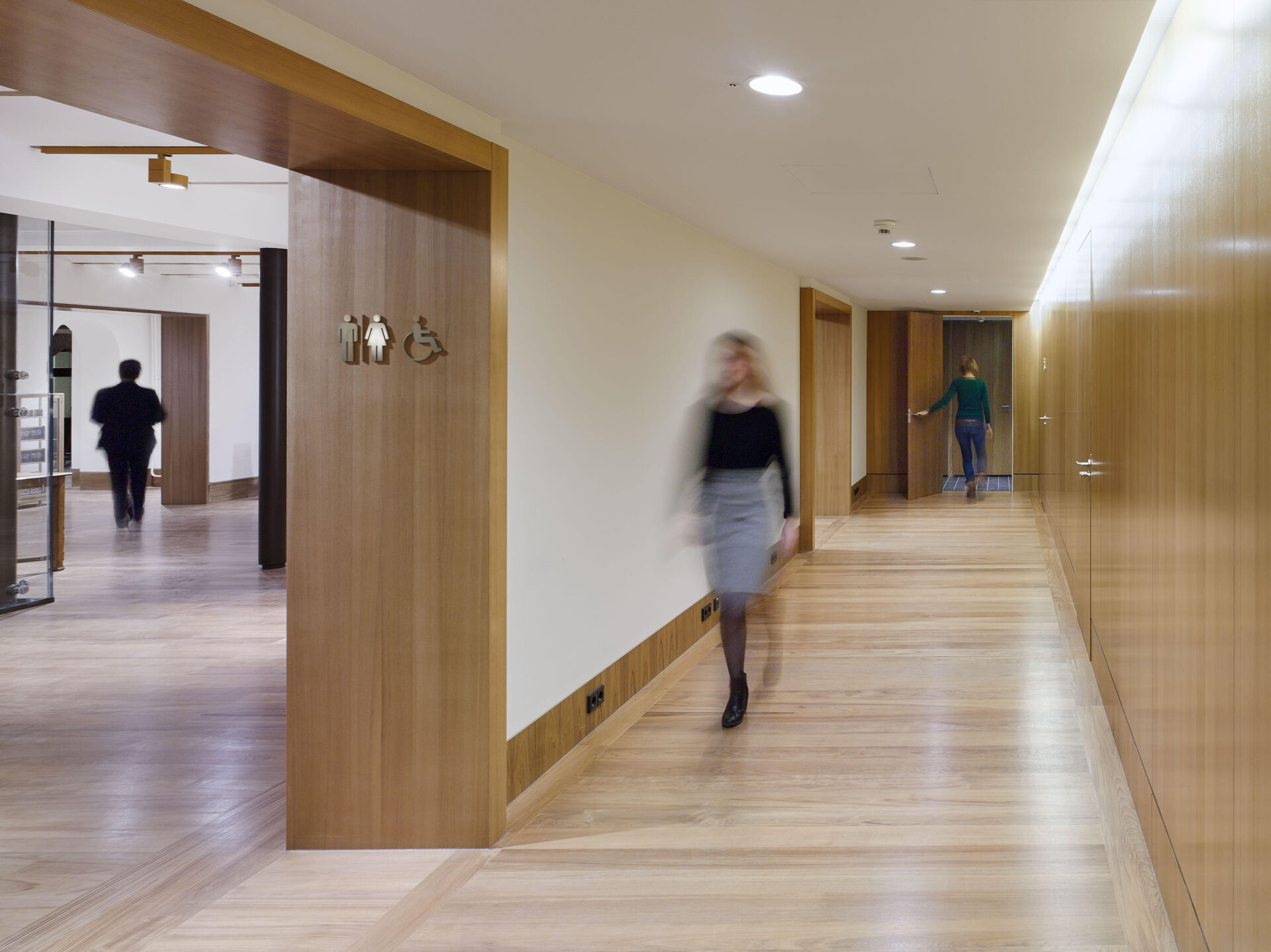 Corridor direction toilet group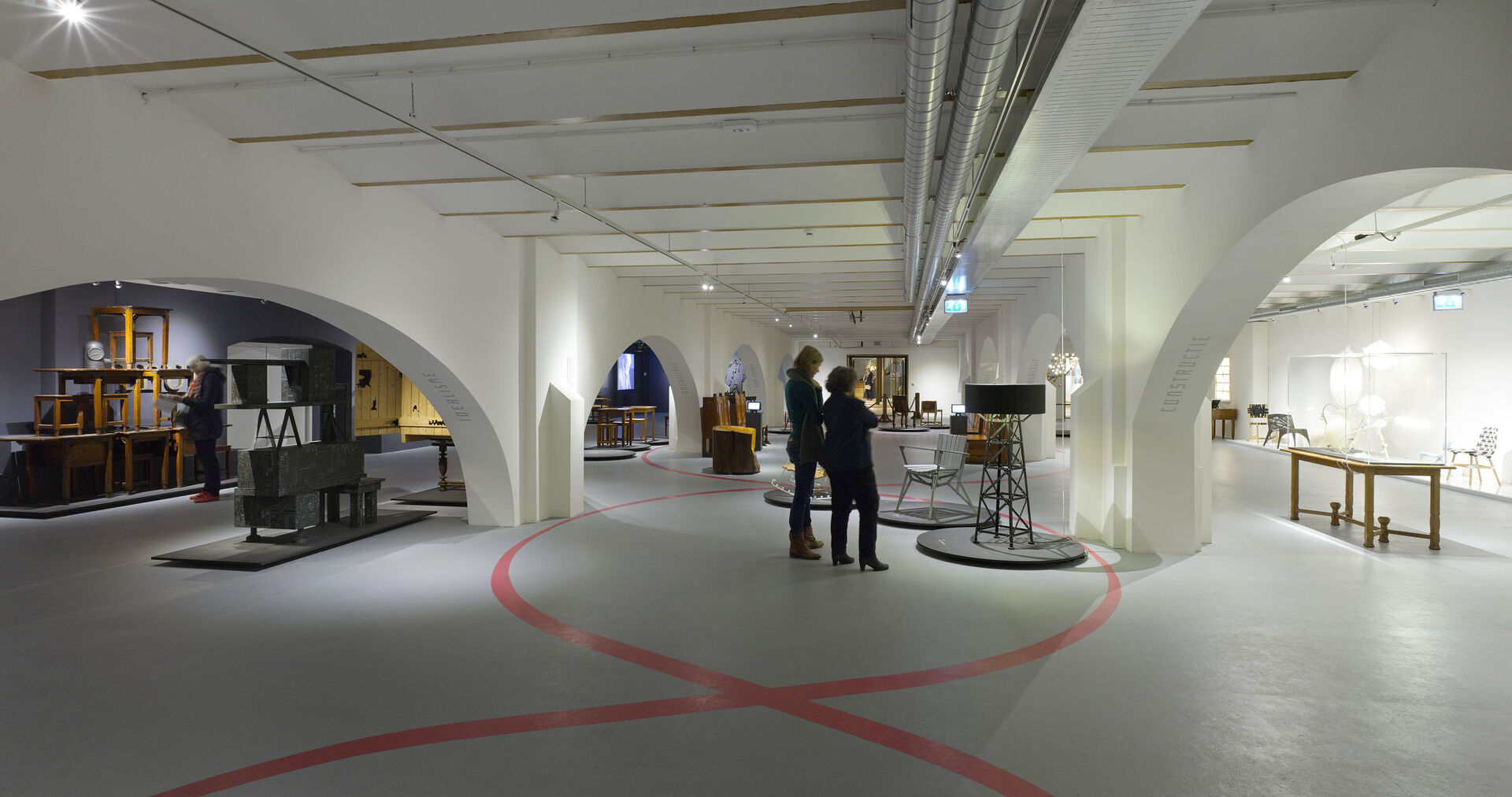 'A building that is used very intensively is often adapted multiple times throughout the years. Such adaptations may do the job at the time, but in the long run do not necessarily benefit the spatiality and impressive Berlage architecture. We have tried to give this architecture back its voice, by removing later additions and disruptive elements.'
Administration Hall before and after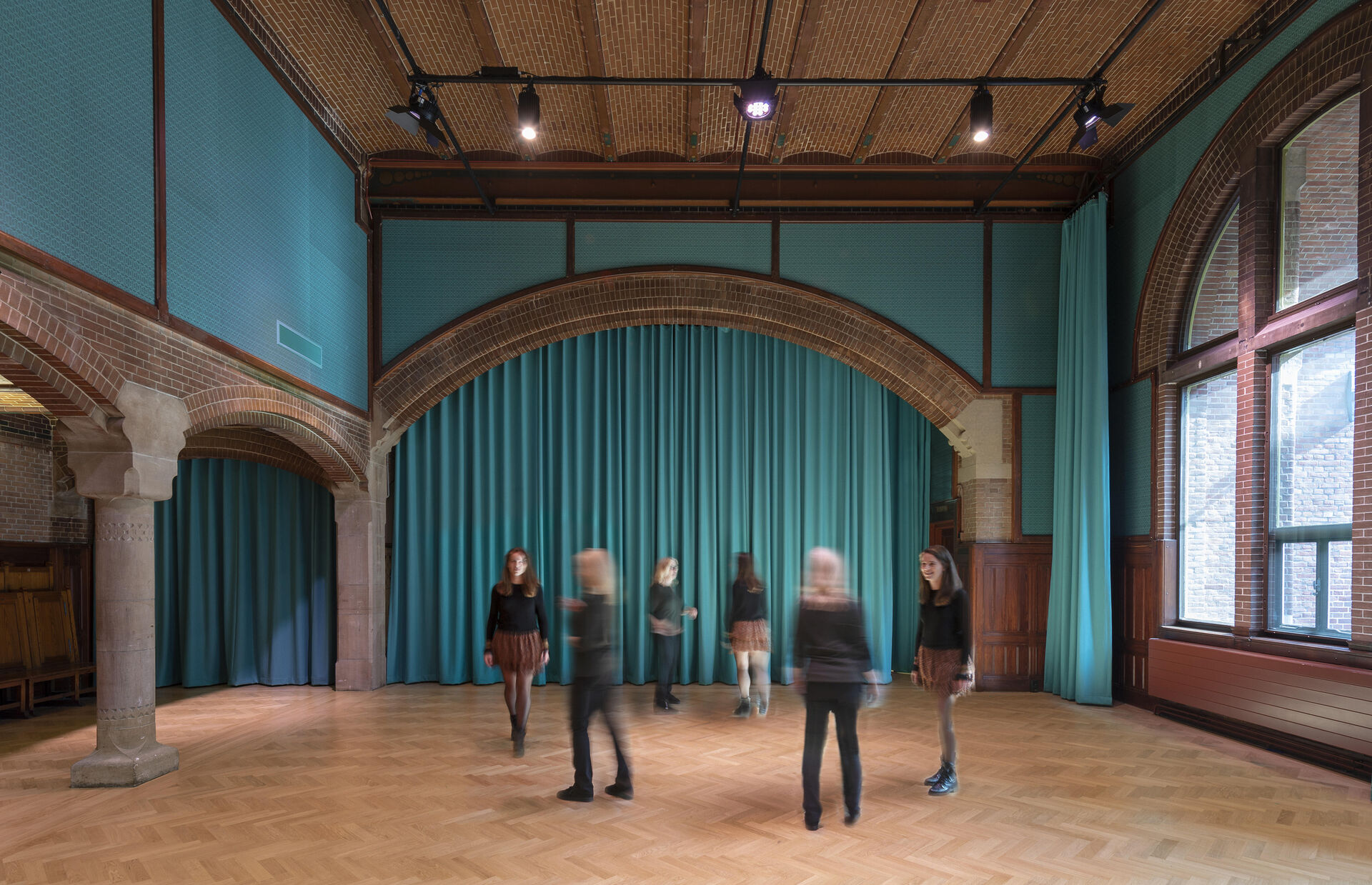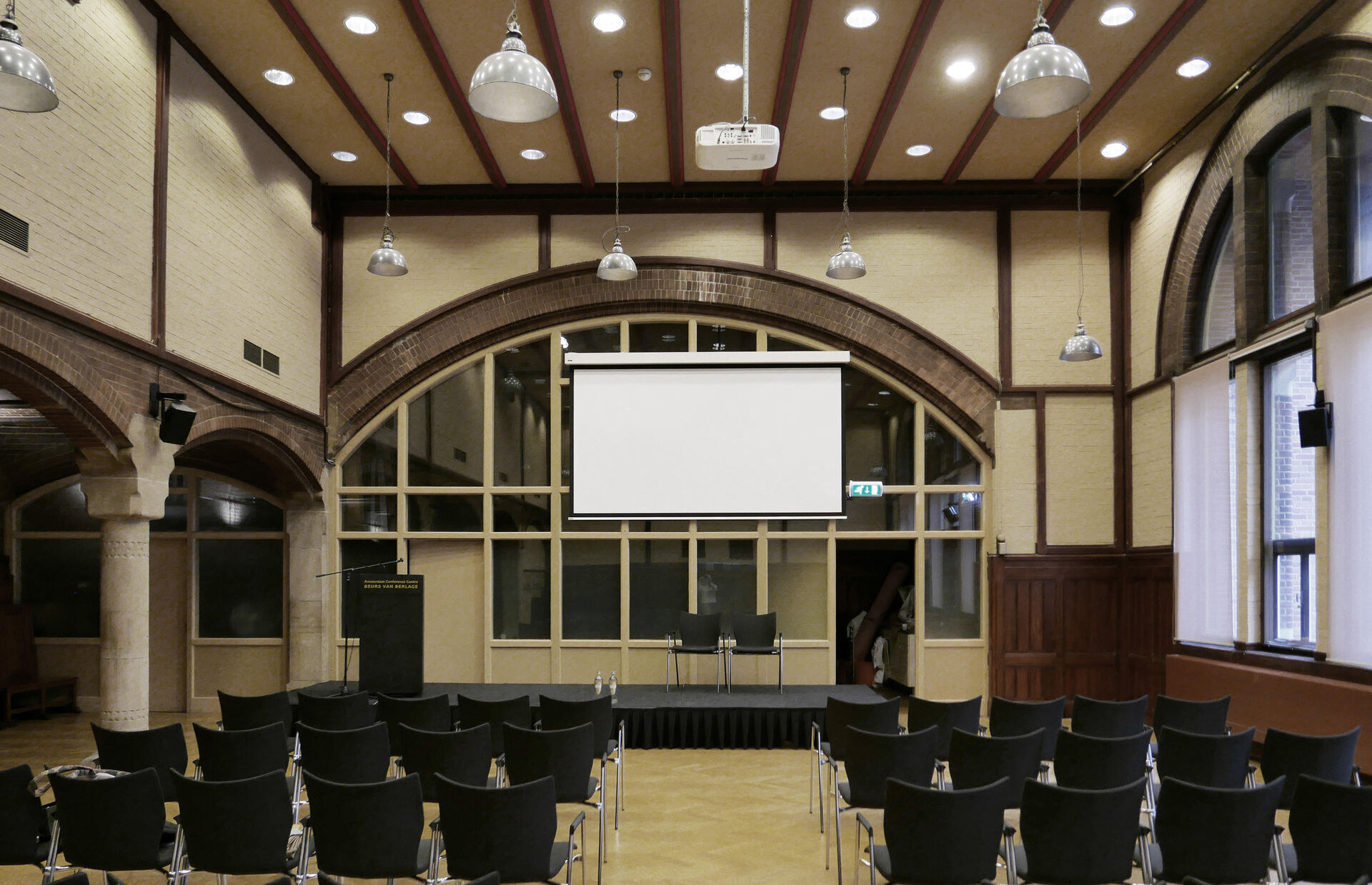 Situation after renovation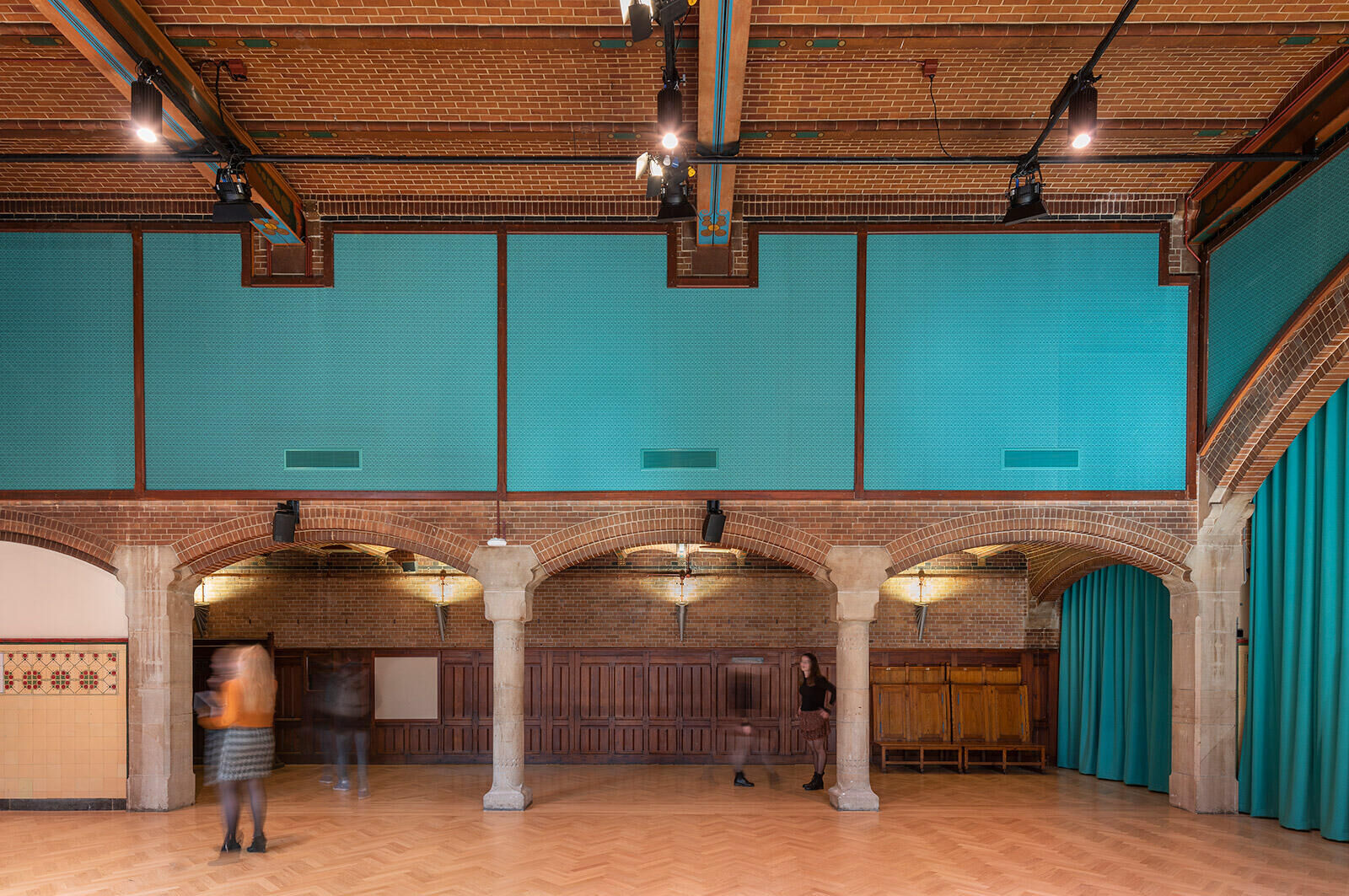 Renovated Administration room with new wall covering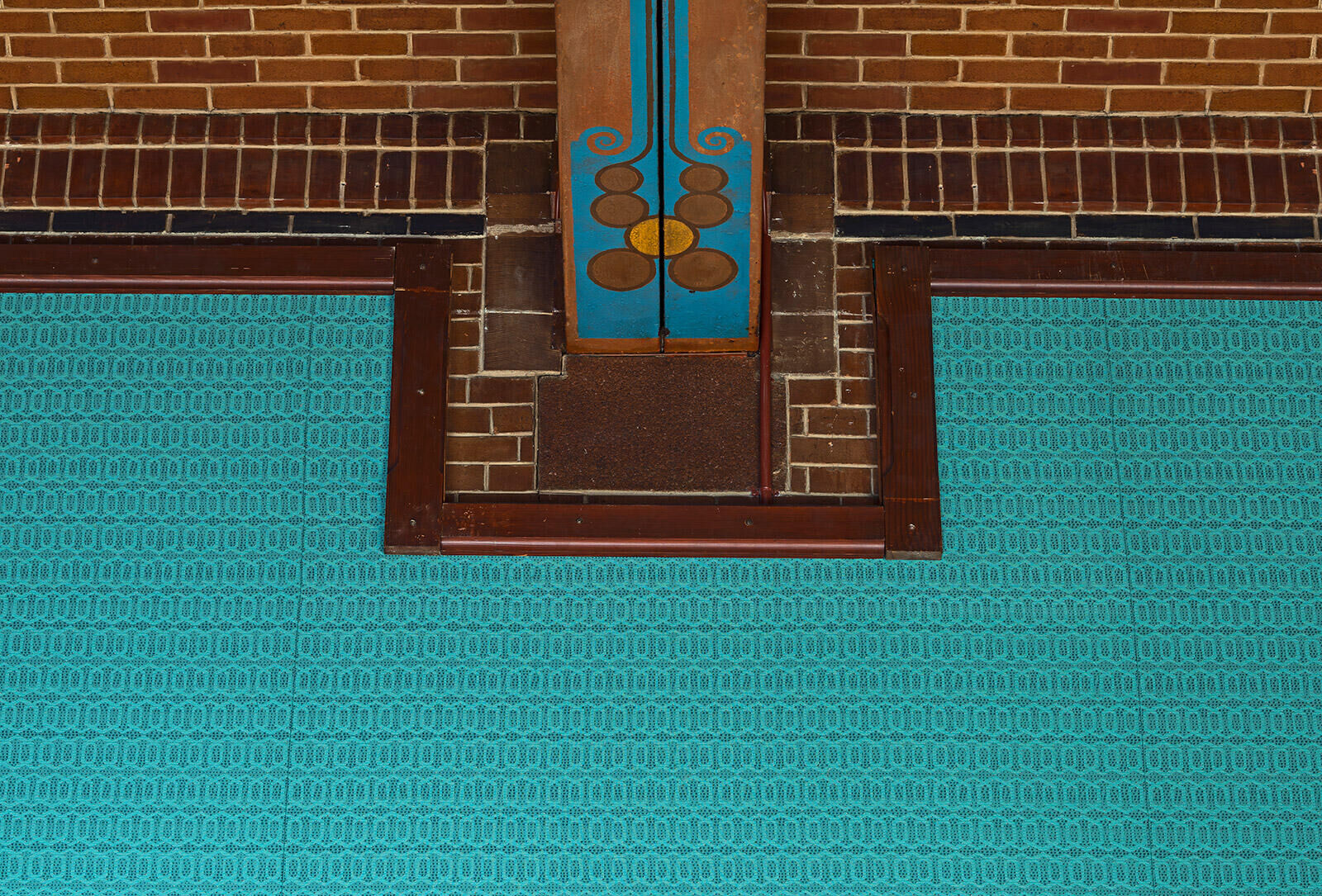 Detail of new, matching wall covering
'This includes removal of suspended ceilings and removing masking paint coats from clean masonry. New elements have been designed in contemporary language, but guided by the forms, materials and colours used by Berlage.'
Graanbeurszaal (the corn exchange hall) before-after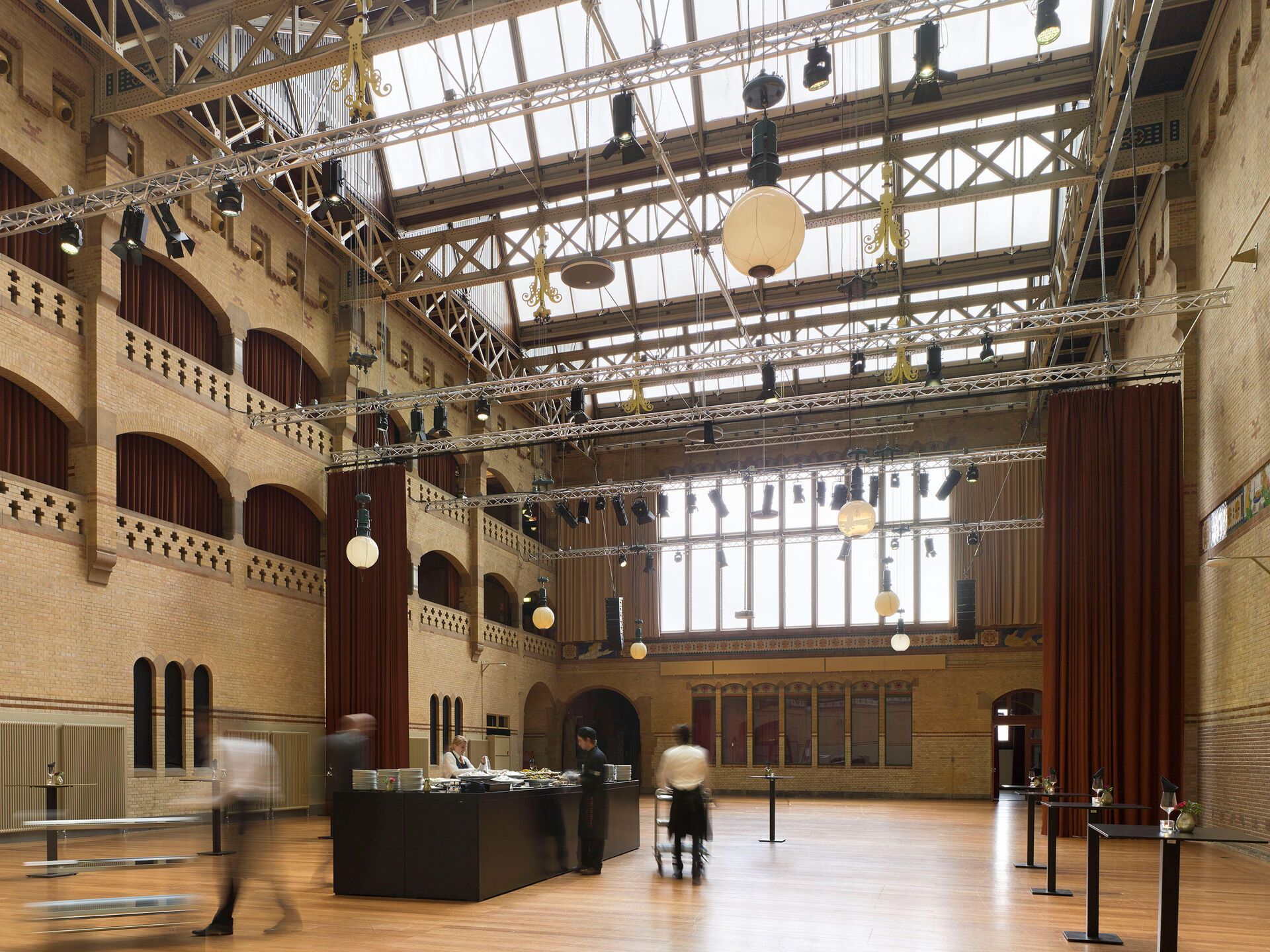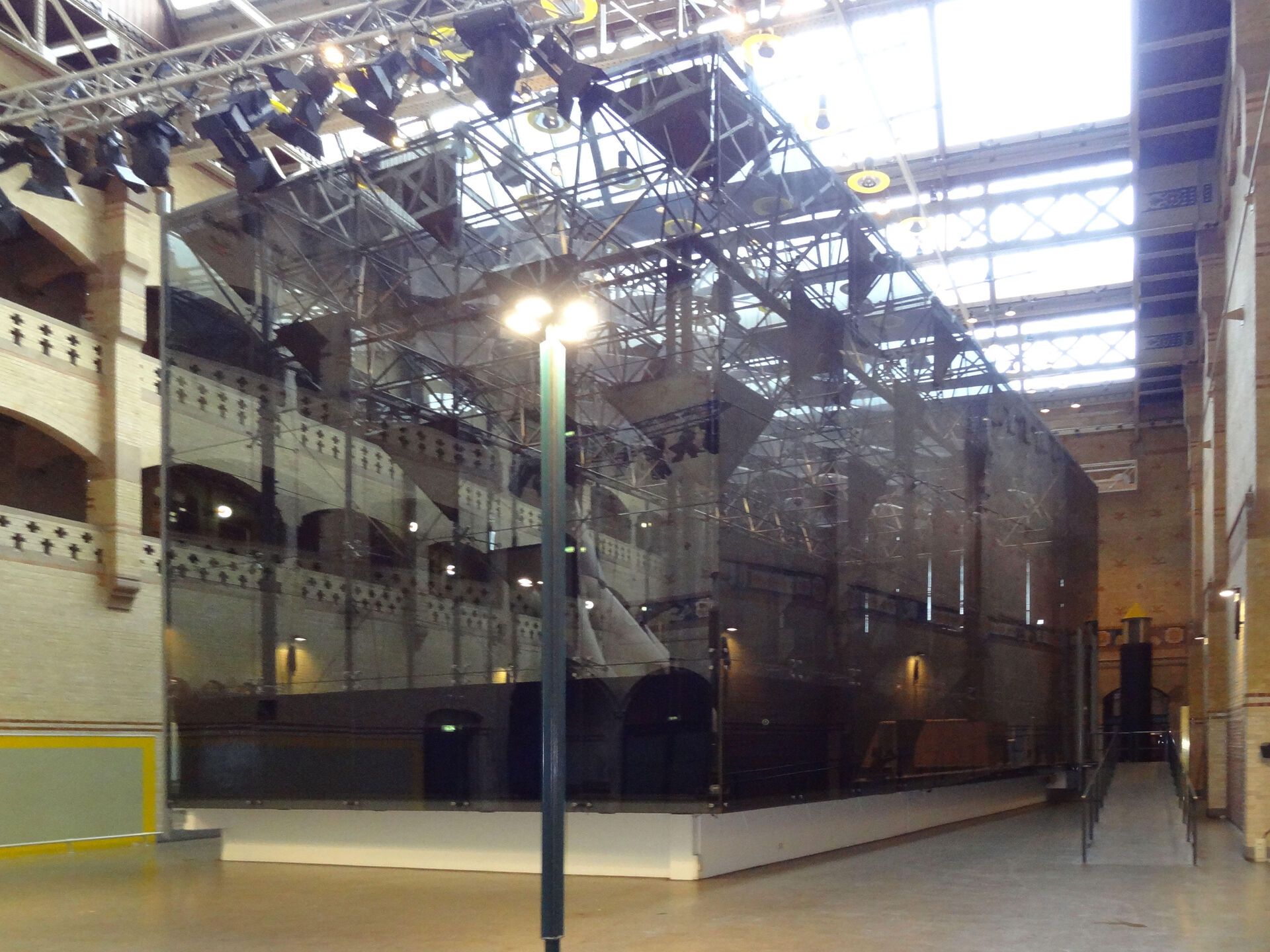 Situation after renovation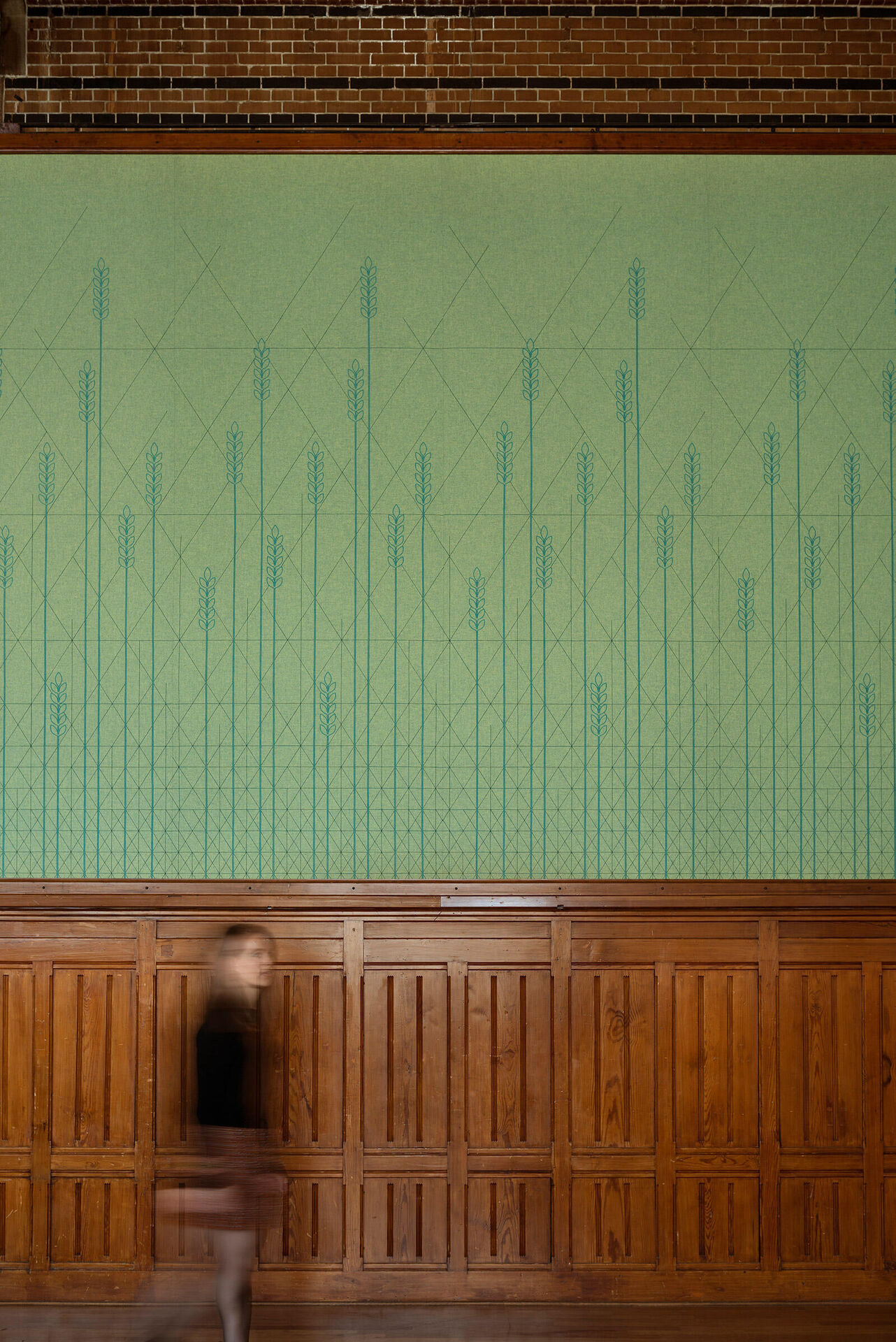 Newly designed wall covering Veilingzaal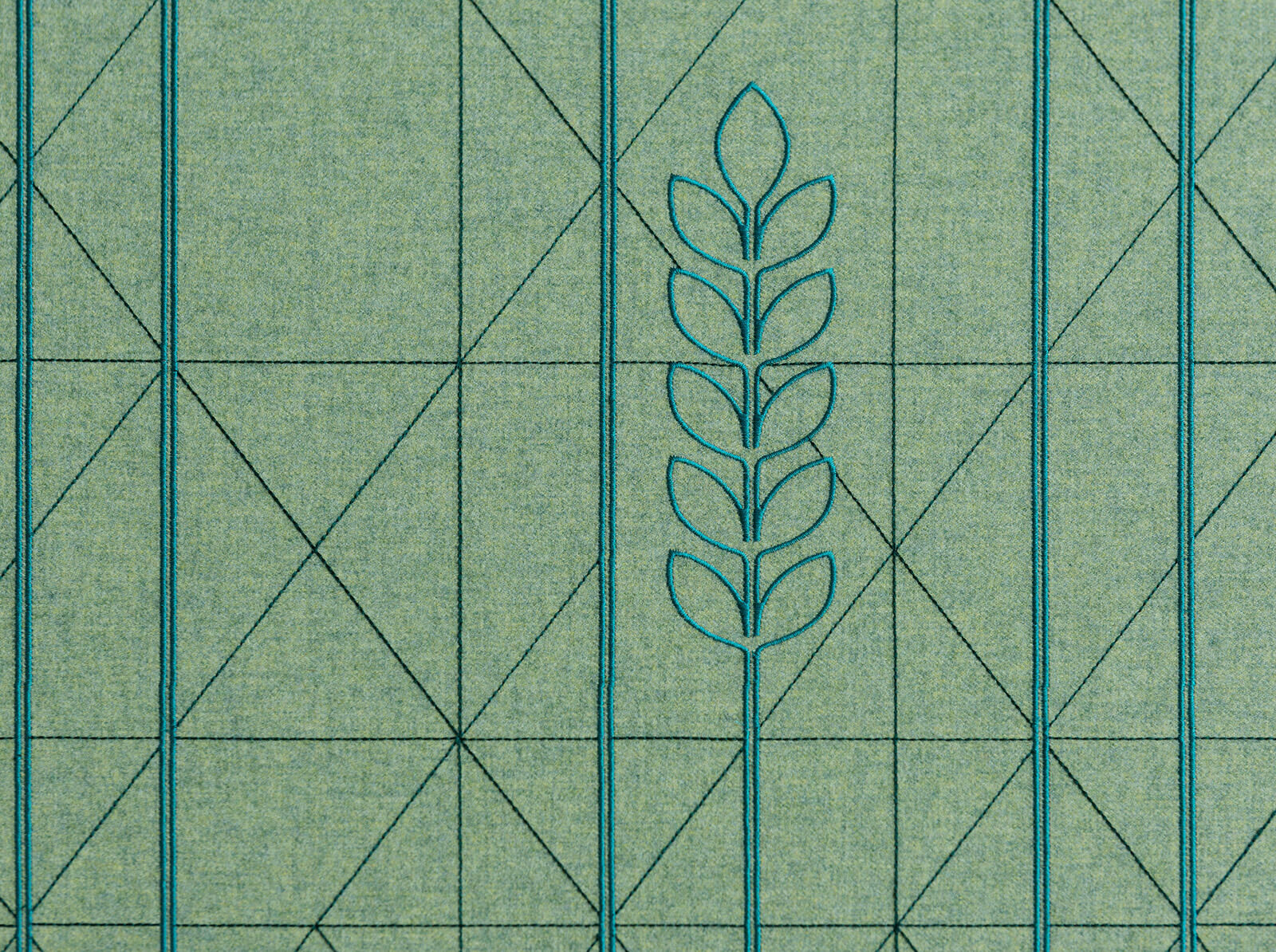 Detail wall covering Veilingzaal