We work on a wide variety of projects, where the task does not end with architecture: interior is inextricably linked with architecture. We work integrally and in a team with our technical designers, architects, and interior architects on a design. However, jobs that focuses only on the interior are also part of our portofolio. The interior team designs interiors of homes, offices, healthcare institutions, and education or cultural projects with a fresh contemporary look.
Immersion in every task
For each assignment, we immerse ourselves in the wishes and identity of the client and the users. We combine the qualities of the building with an integral vision of the interior. Technique, light and carefully chosen materials together constitute the complete package. Sometimes subtle, sometimes surprising. We look for a balance between comfort and character. This often leads to the development of specifically designed details or product combinations.
Design wall coverings with stitching pattern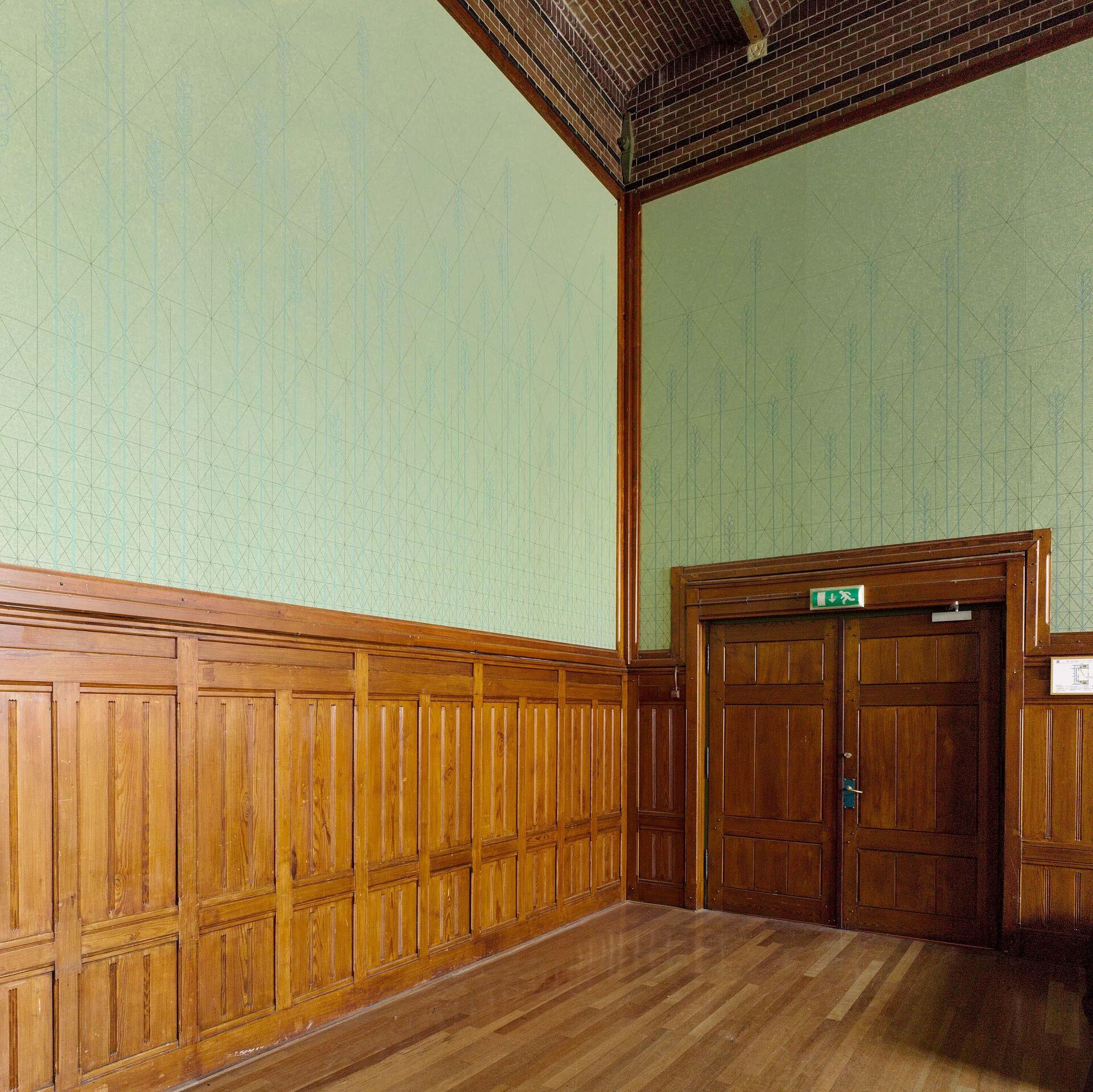 Graanbeurszaal Beurs van Berlage Amsterdam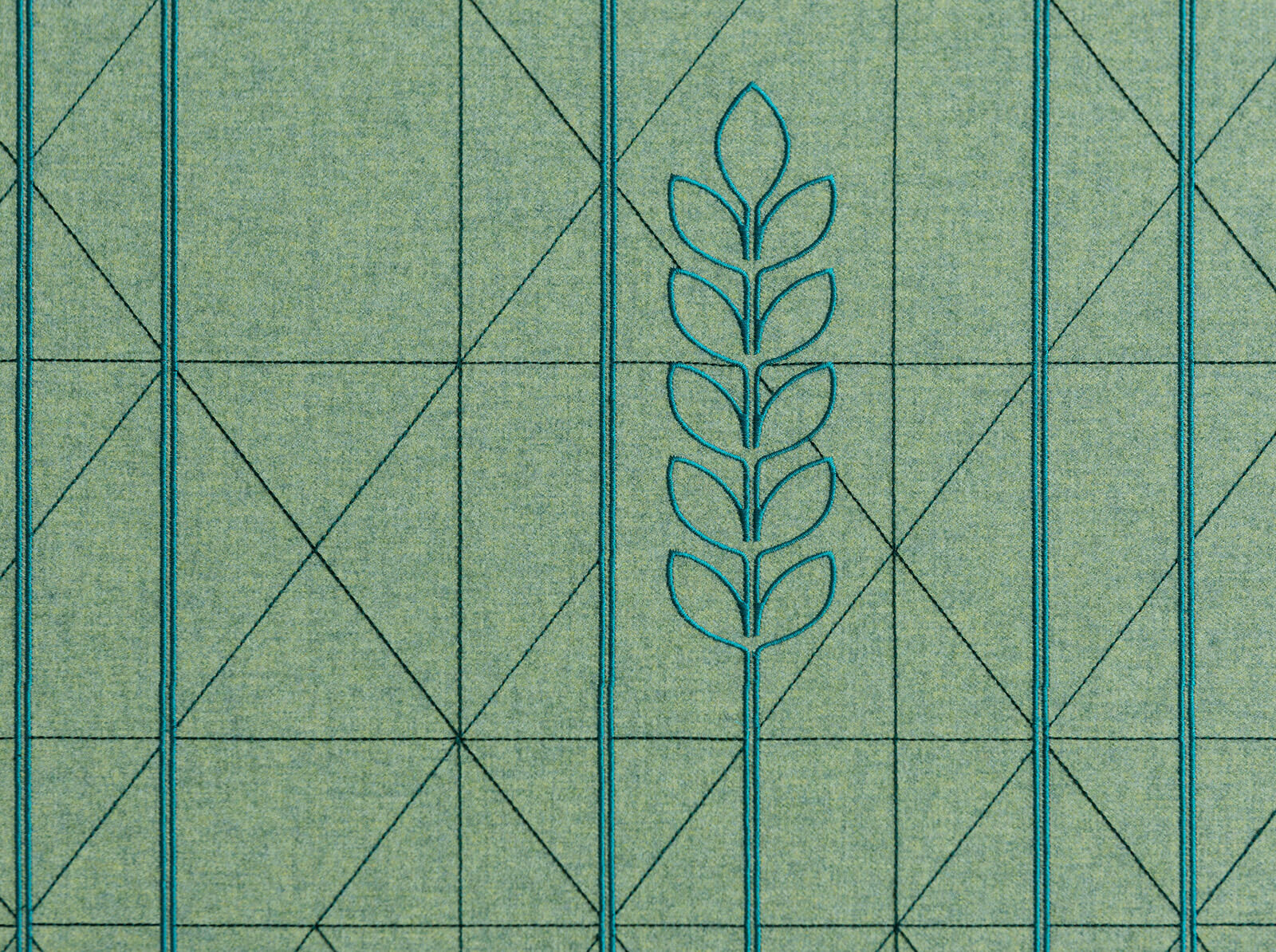 Detail wall covering, in which the history of the room is graphically translated in a contemporary way
Custom-made acoustic solutions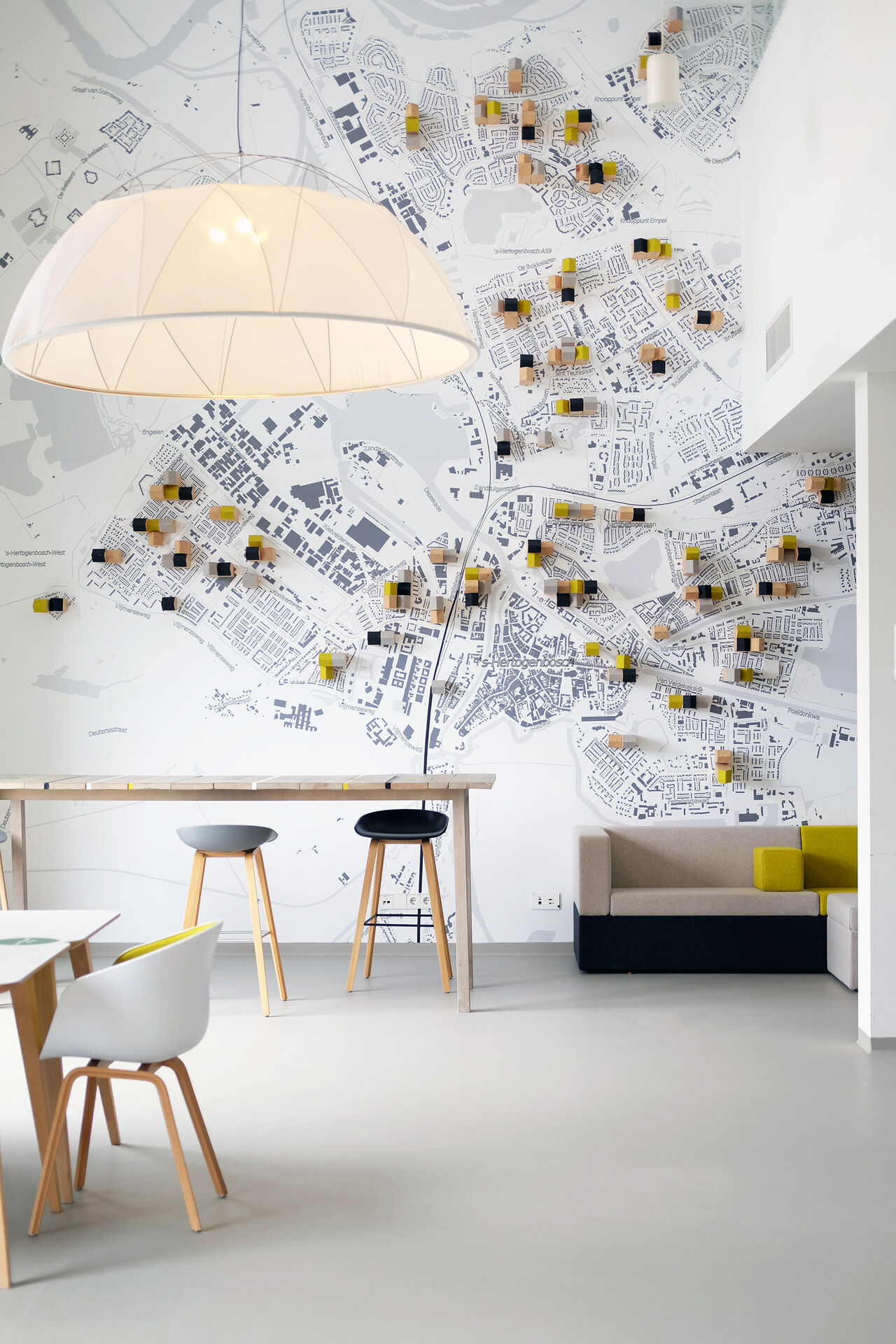 Wallpaper print with 3D objects made of wood and felt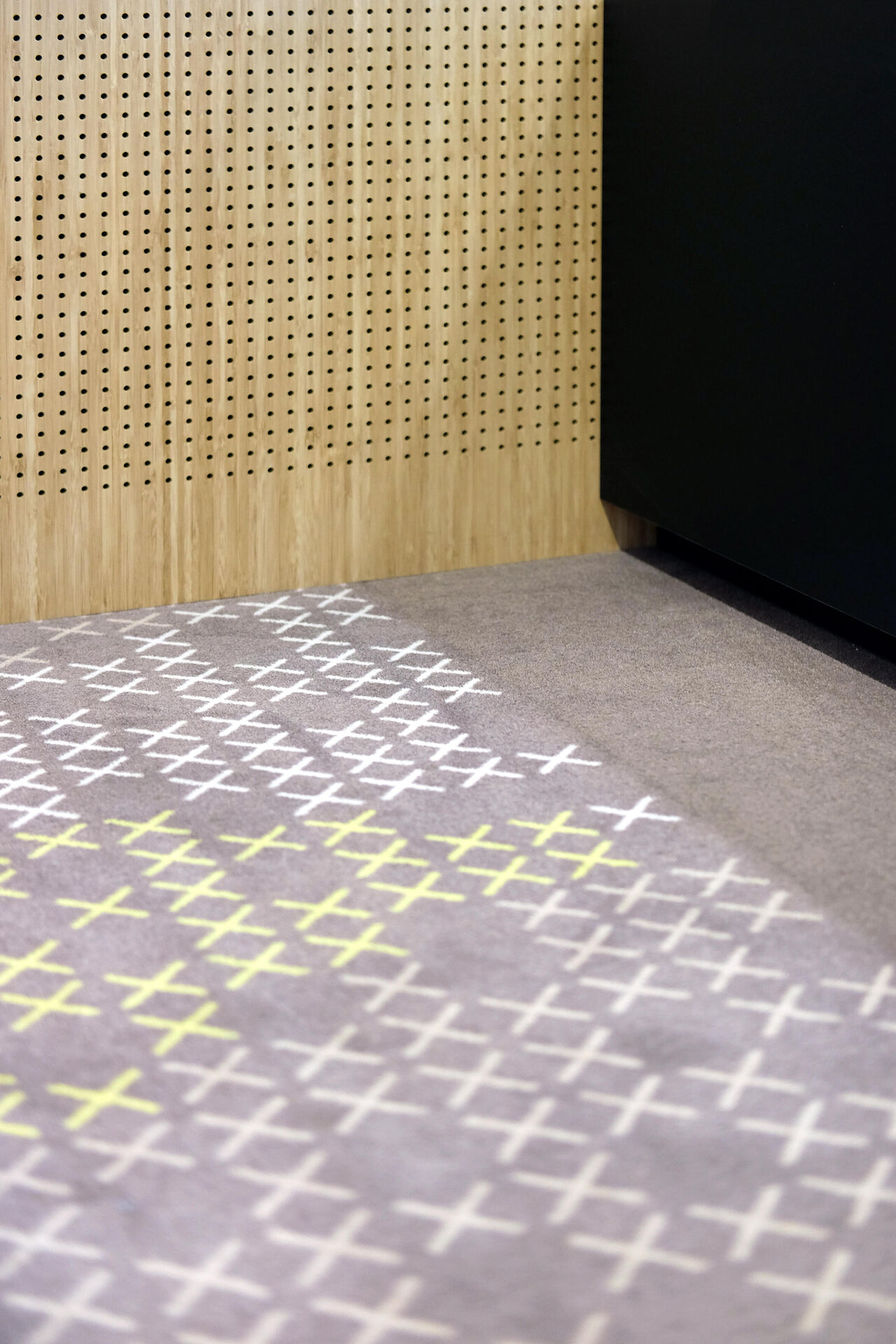 Design print floor covering
Unity in pattern and material in design for farewell ceremony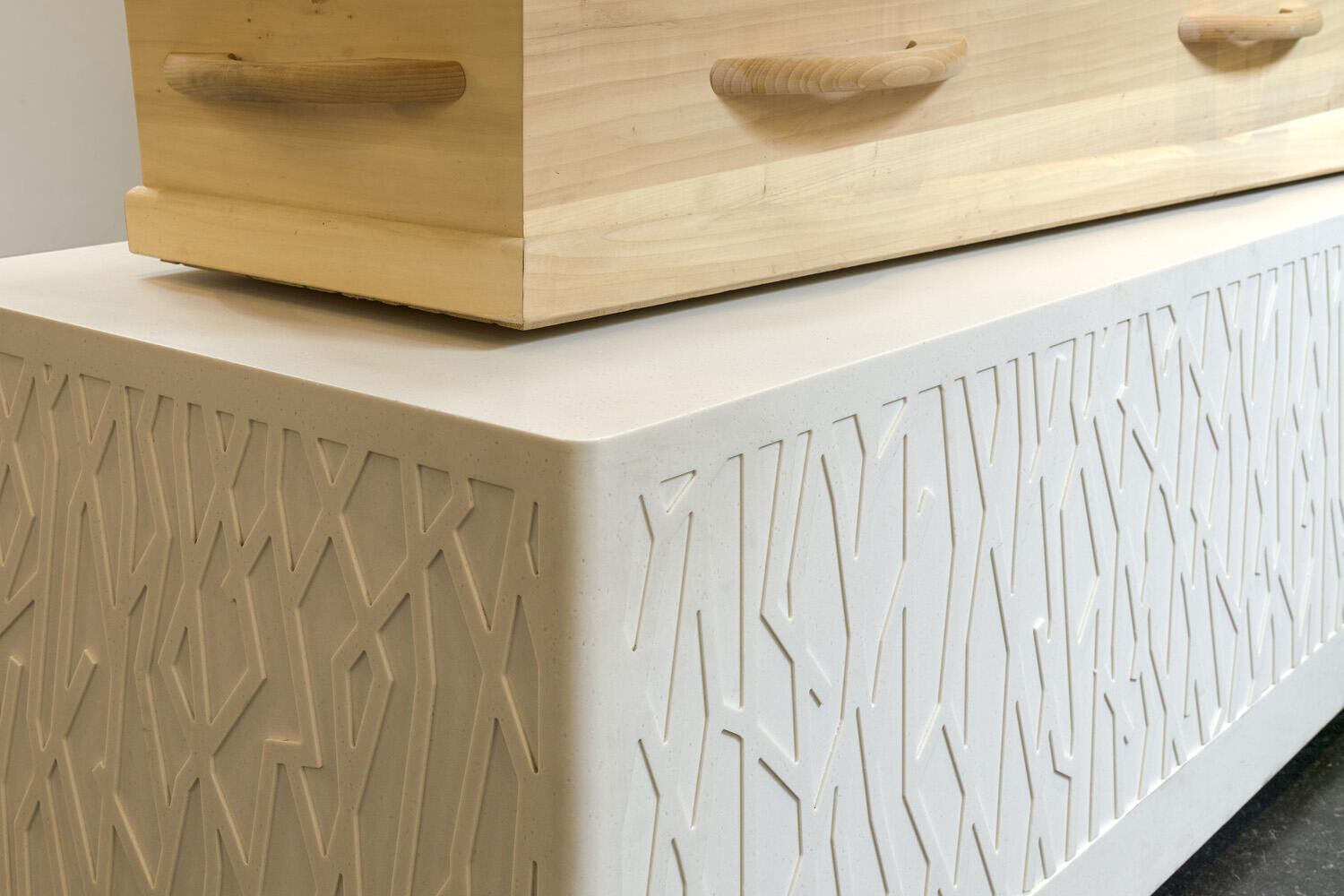 Catafalque with integrated pattern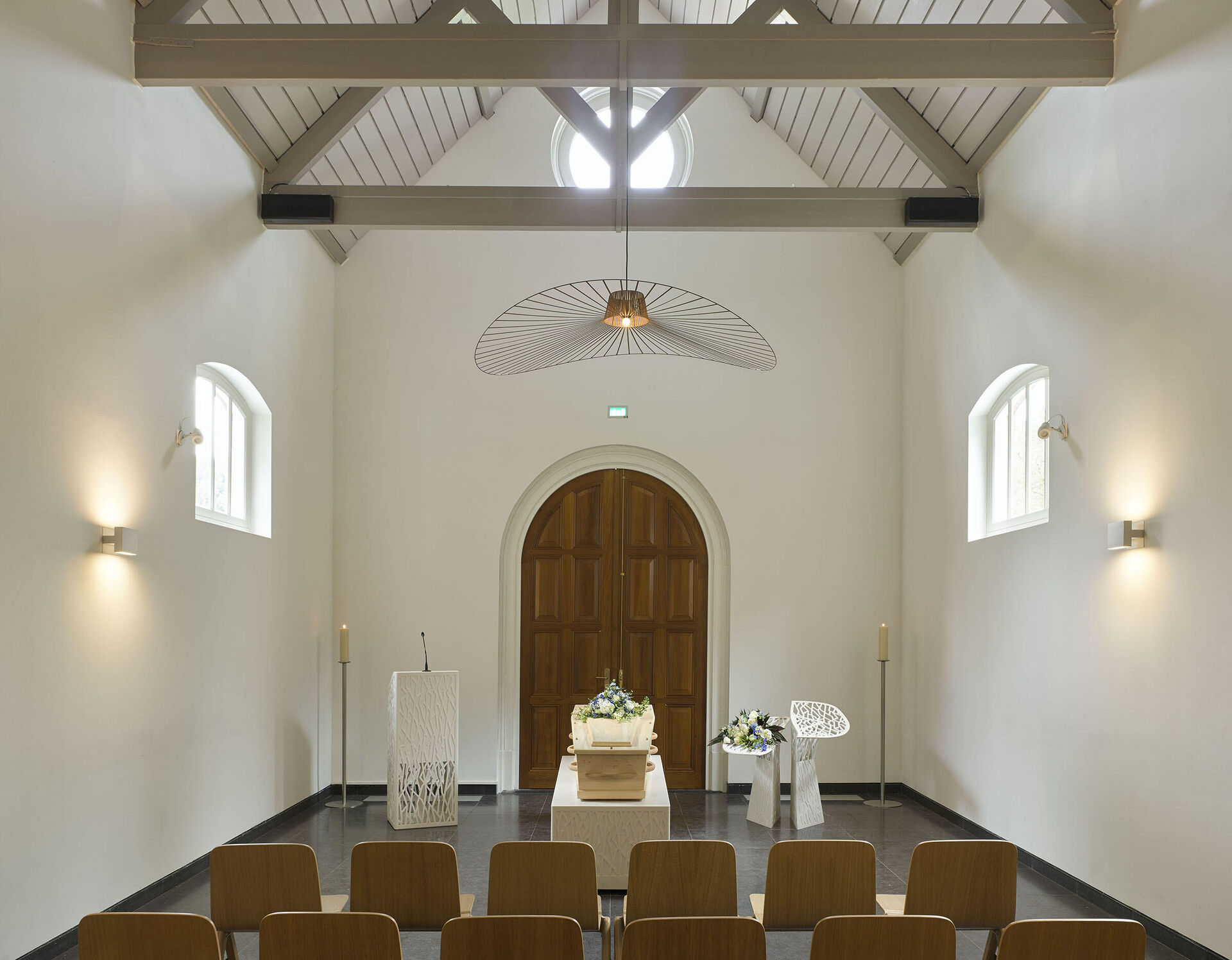 Interior of a small auditorium
Total concept
The design of an interior is an extension of the integral building concept: they reinforce each other and form a whole. We like to design the furniture in detail: from a reception desk for WTC Rotterdam, to a flexible work and meeting island for a university, a sustainable bar for a museum café, or mobile stands for a lecture hall in a monumental church.
With expertise in renovation, repurposing and making monumental buildings more sustainable, we like to work on monumental interiors. This means marrying the spatial experience, existing colour and material palette, and (day)light with often a new use due to the new function. We look for new opportunities and solutions. The task is to add new interior elements – contrasting or in harmony – and detailed elaborations for the restoration of a protected interior.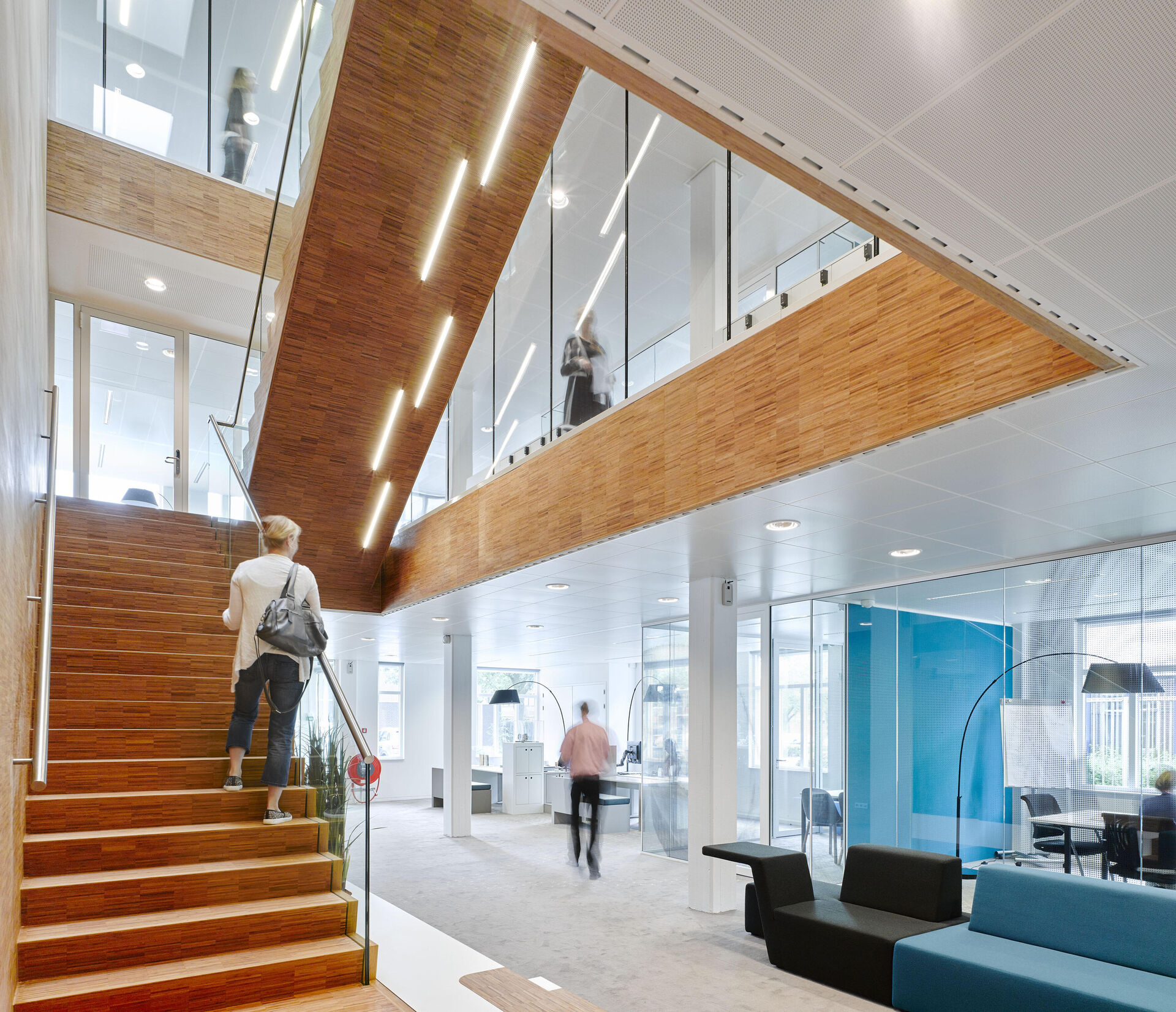 Integral use of materials in staircase detail and presentation furniture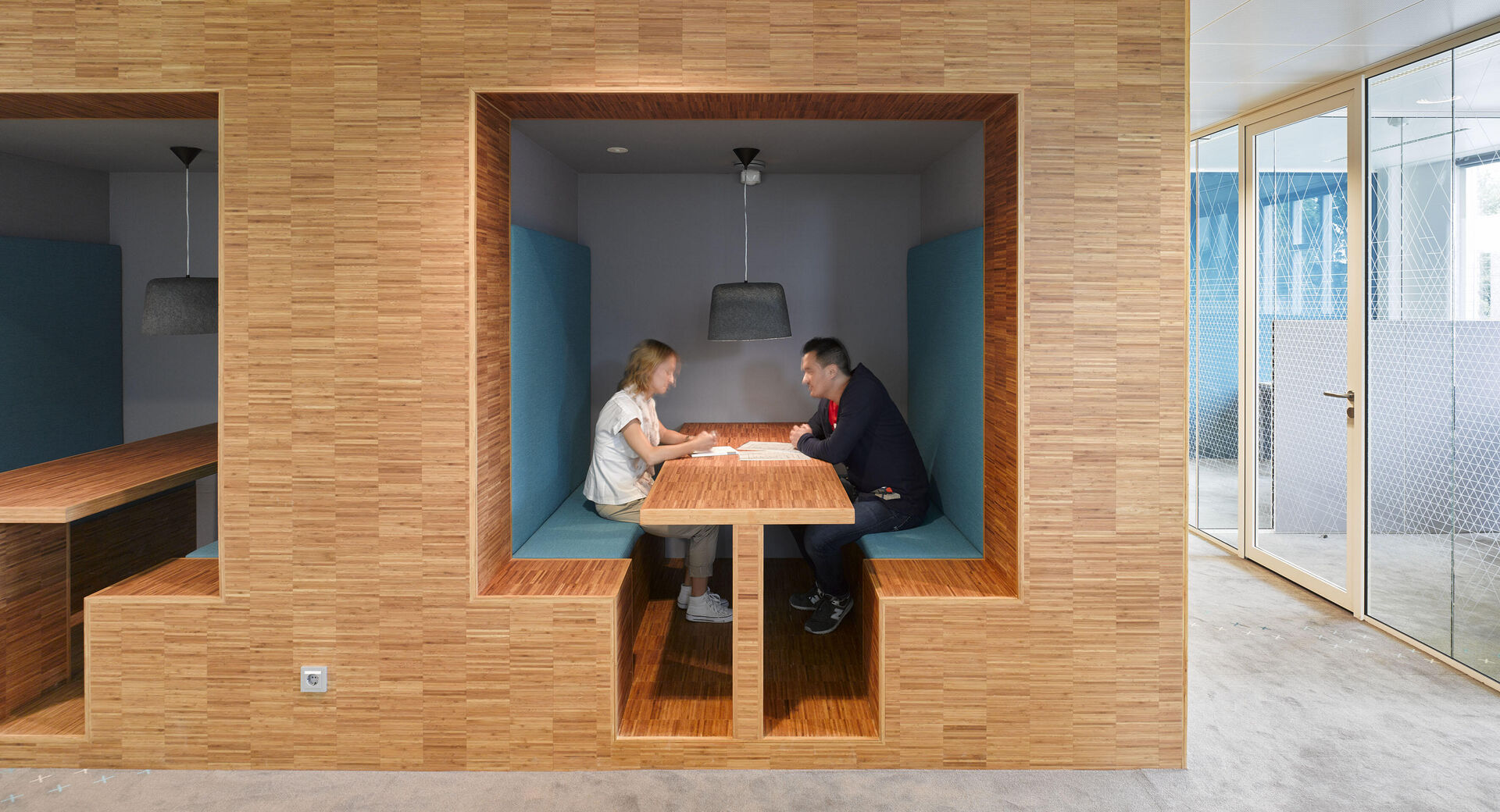 Reinterpretation of quiet work cubicle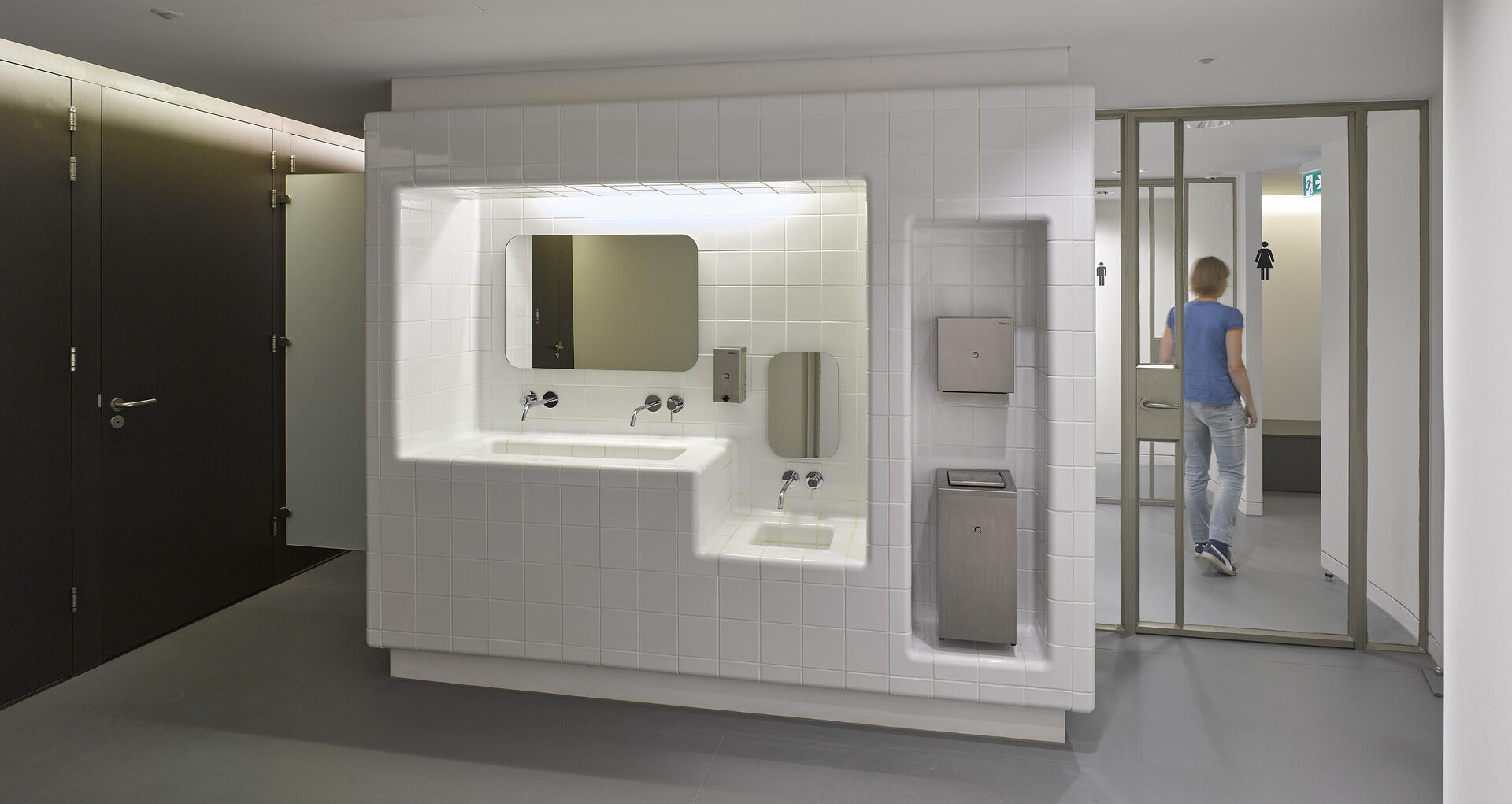 Toilet furniture museum Dordrecht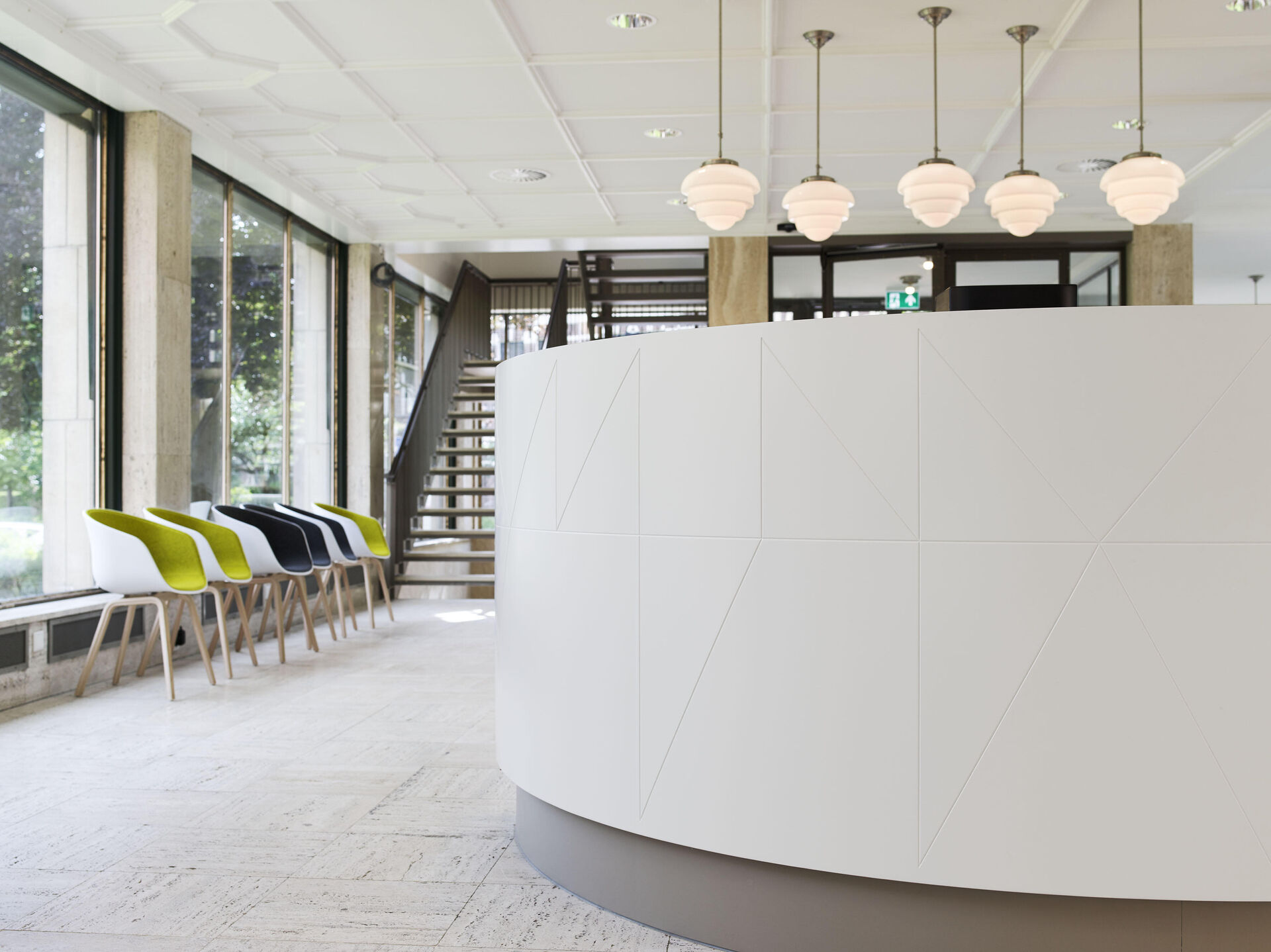 Contemporary counter and lighting plan in renovated monumental entrance hall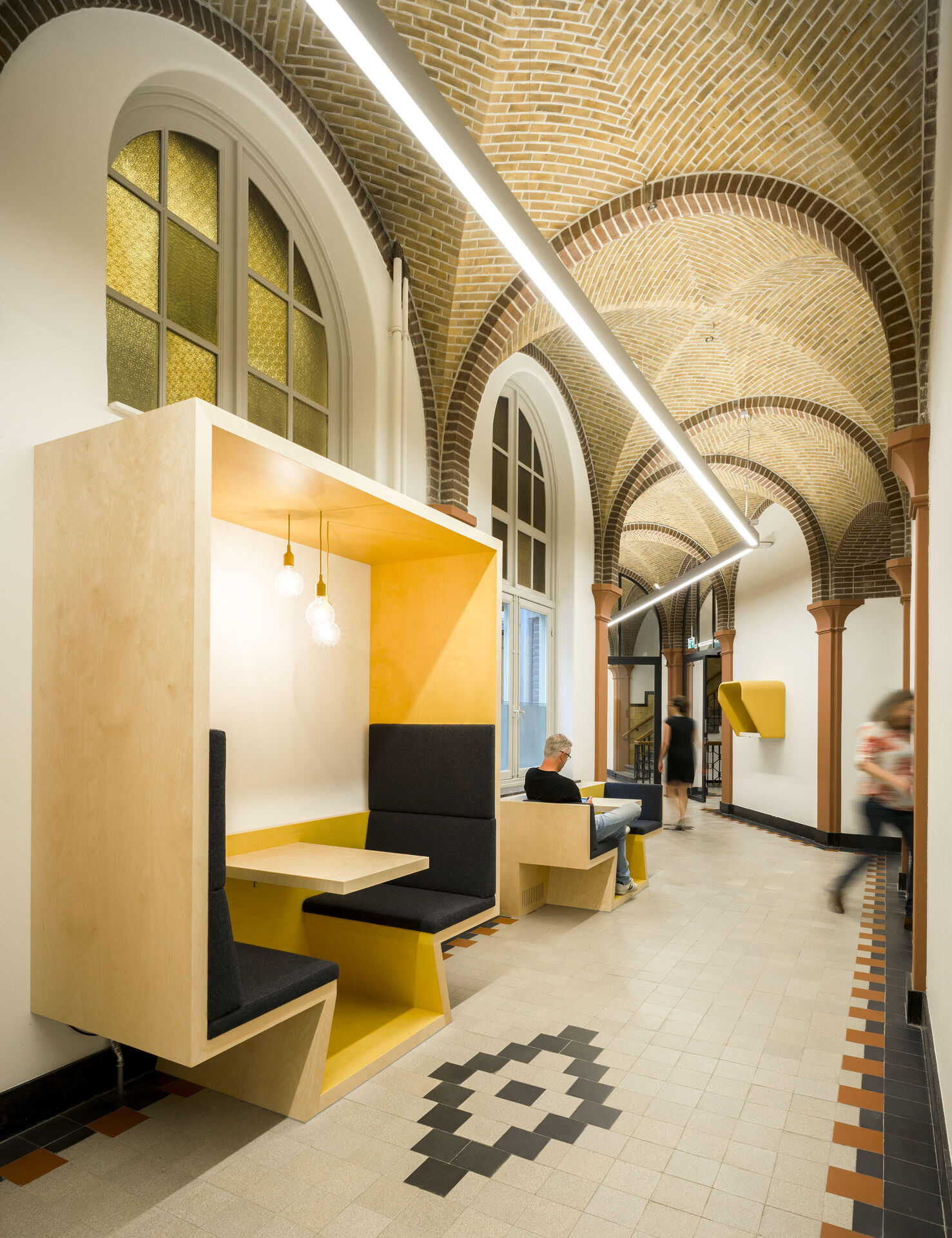 Active places in the wide monumental corridors for more visible liveliness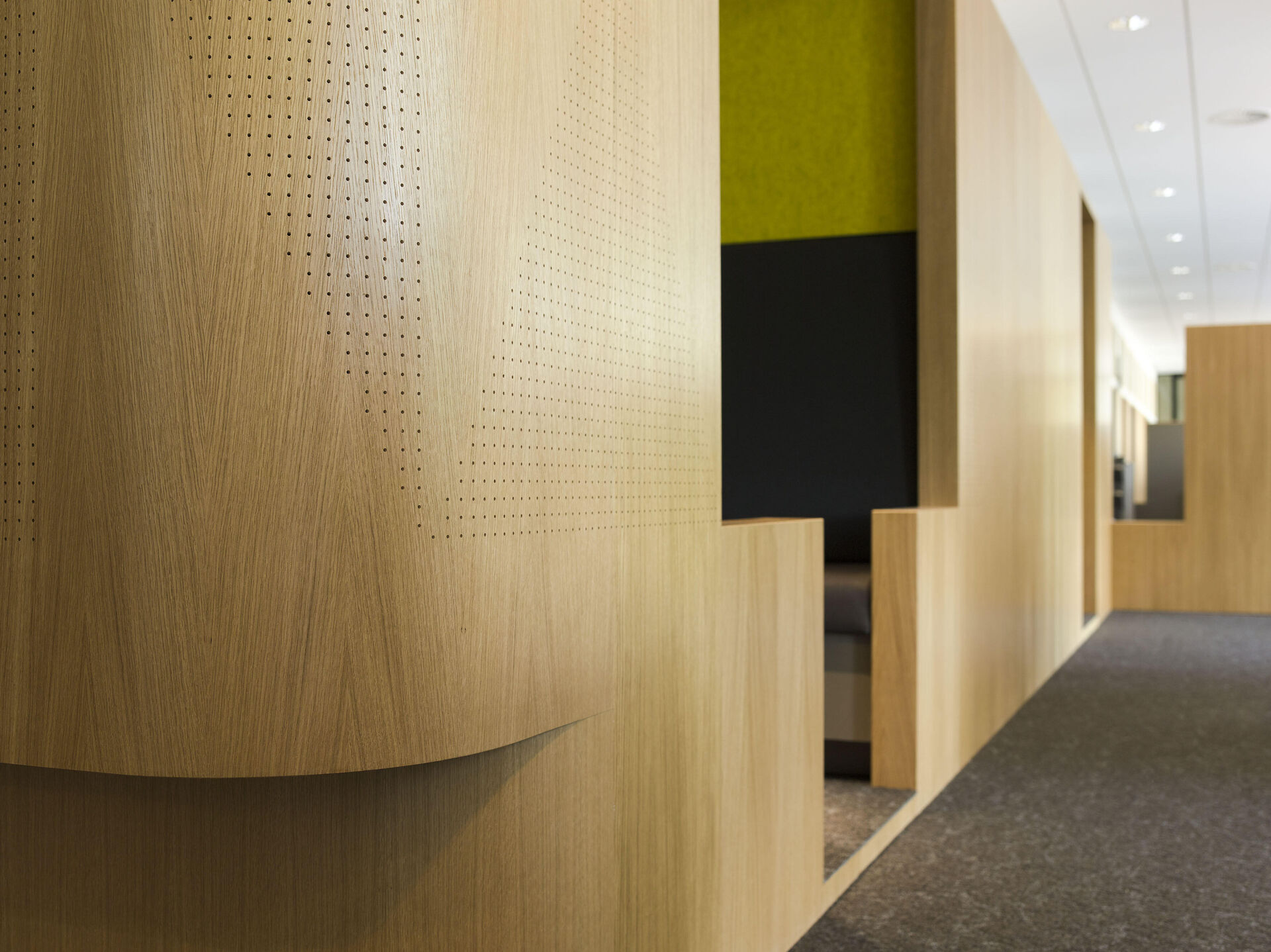 Acoustic perforation pattern in working niche GGD IJsselland
Sustainability
We want to create healthy and flexible buildings in which people can move optimally and where meetings are encouraged. The interior plays a major role in this. Not only in how it is designed, but also in how it is made. We include this aspect in the design of interiors.
For example, we designed an interior for Museum van Bommel van Dam that can be completely disassembled and is therefore easy to recycle over time. The materials used are all sustainable and without any artificial colouring agents. This creates a natural colour palette: from fresh champagne anodised aluminium, bare plywood, and bamboo to the dark colours of blue steel.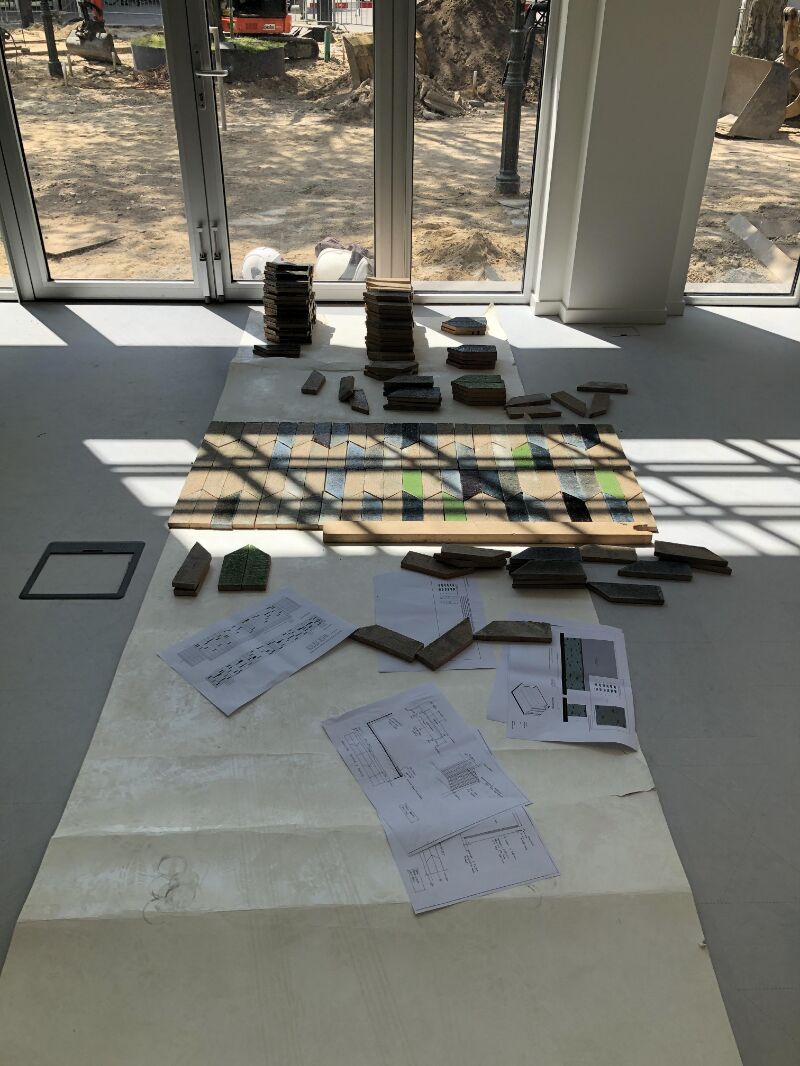 Development of stone strips based on regional waste and glaze with residual material from local glass factory in collaboration with Stonecycling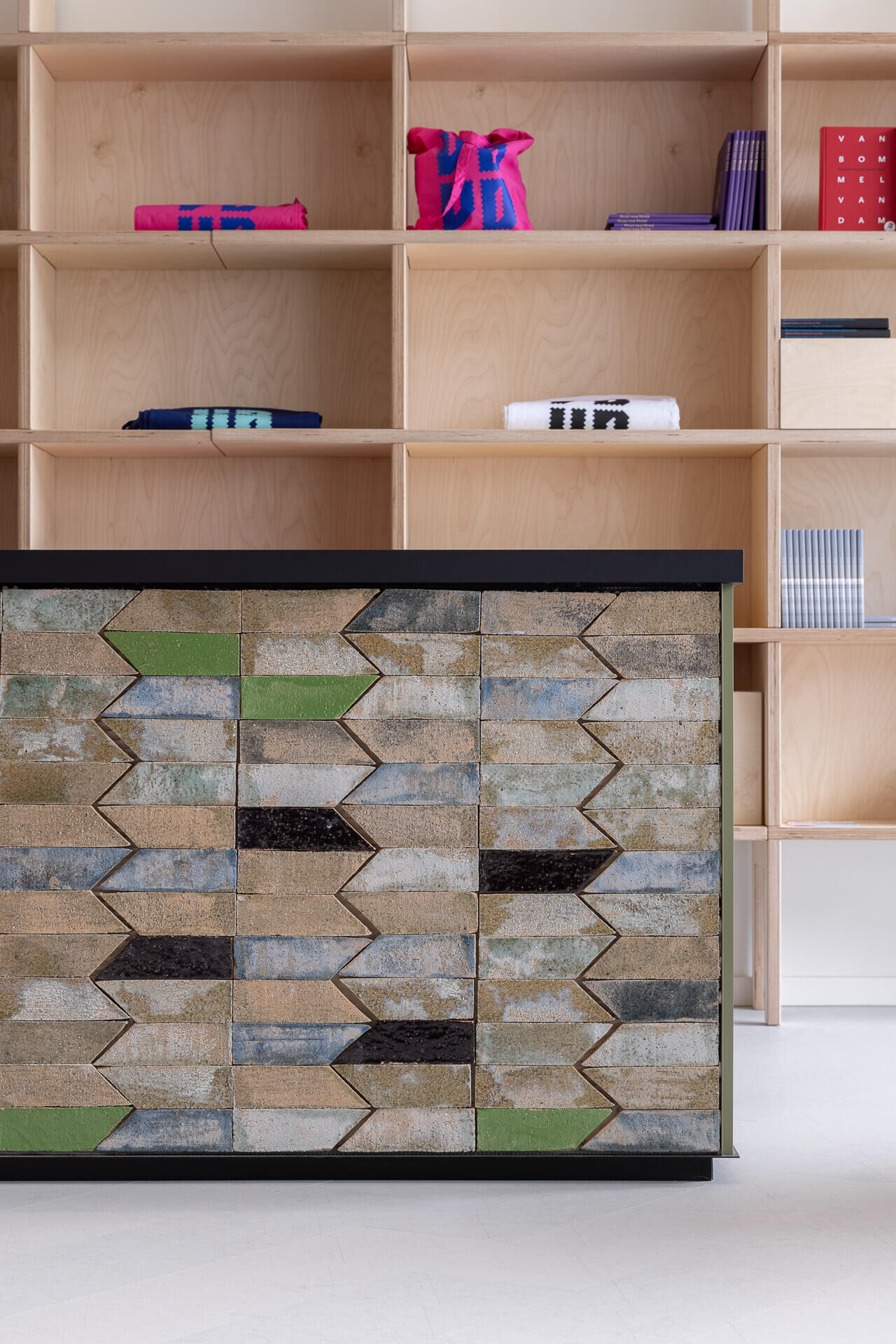 Entrance counter Van Bommel van Dam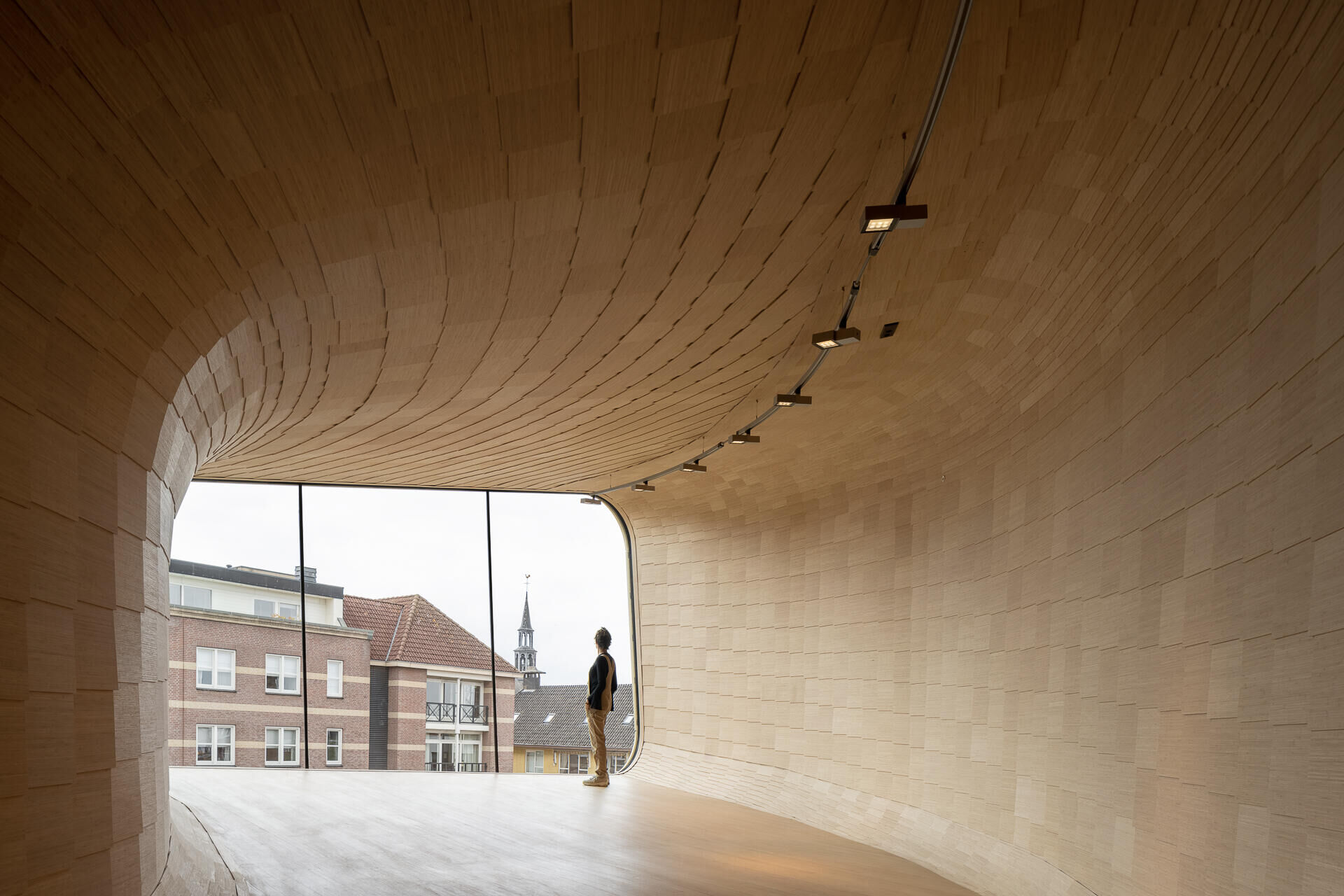 Attached bamboo panels in a pattern that can be disassembled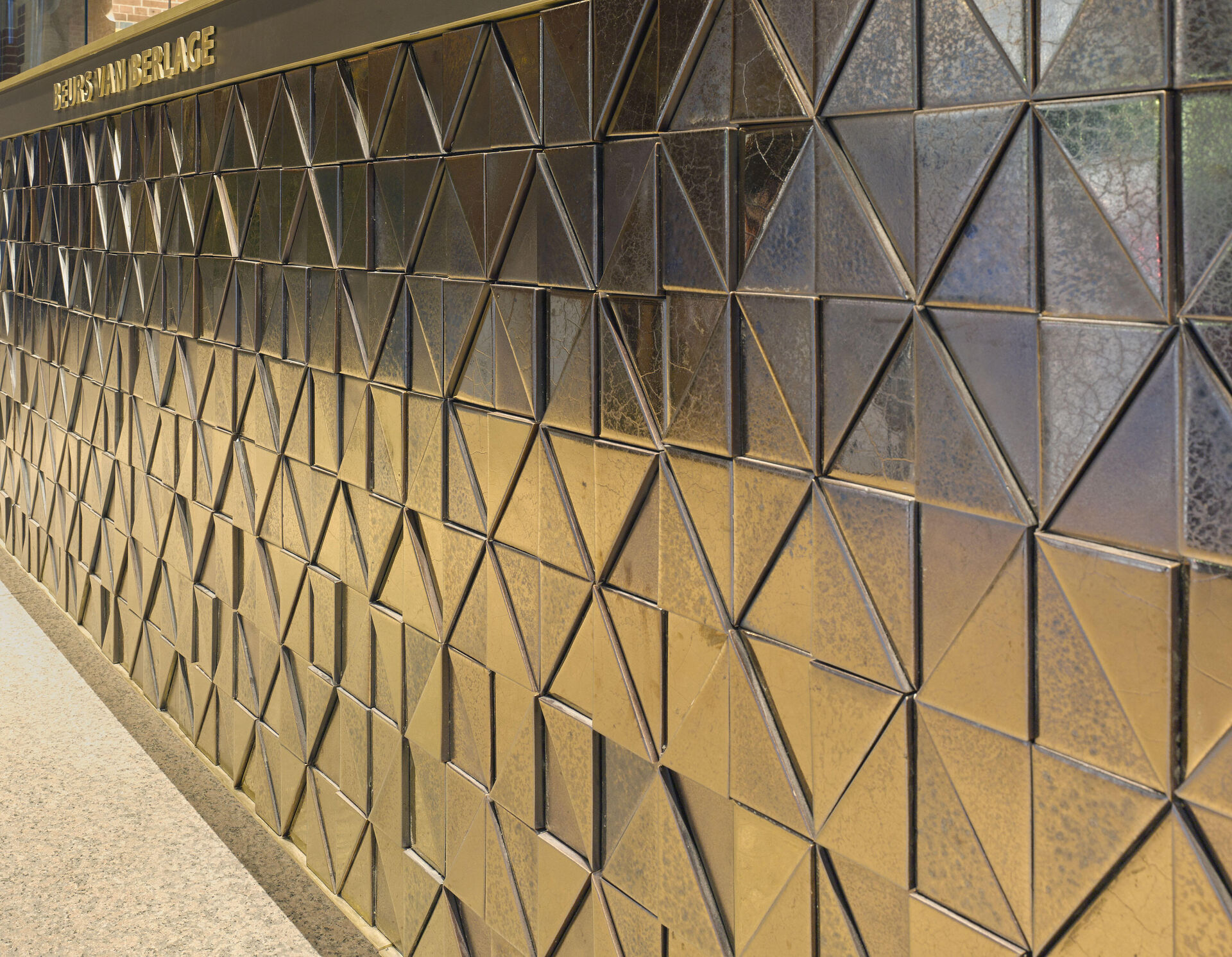 Gold bronze tiles specially developed for the Beurs van Berlage counter
A selection of our projects with interior design
The interior team at BiermanHenket