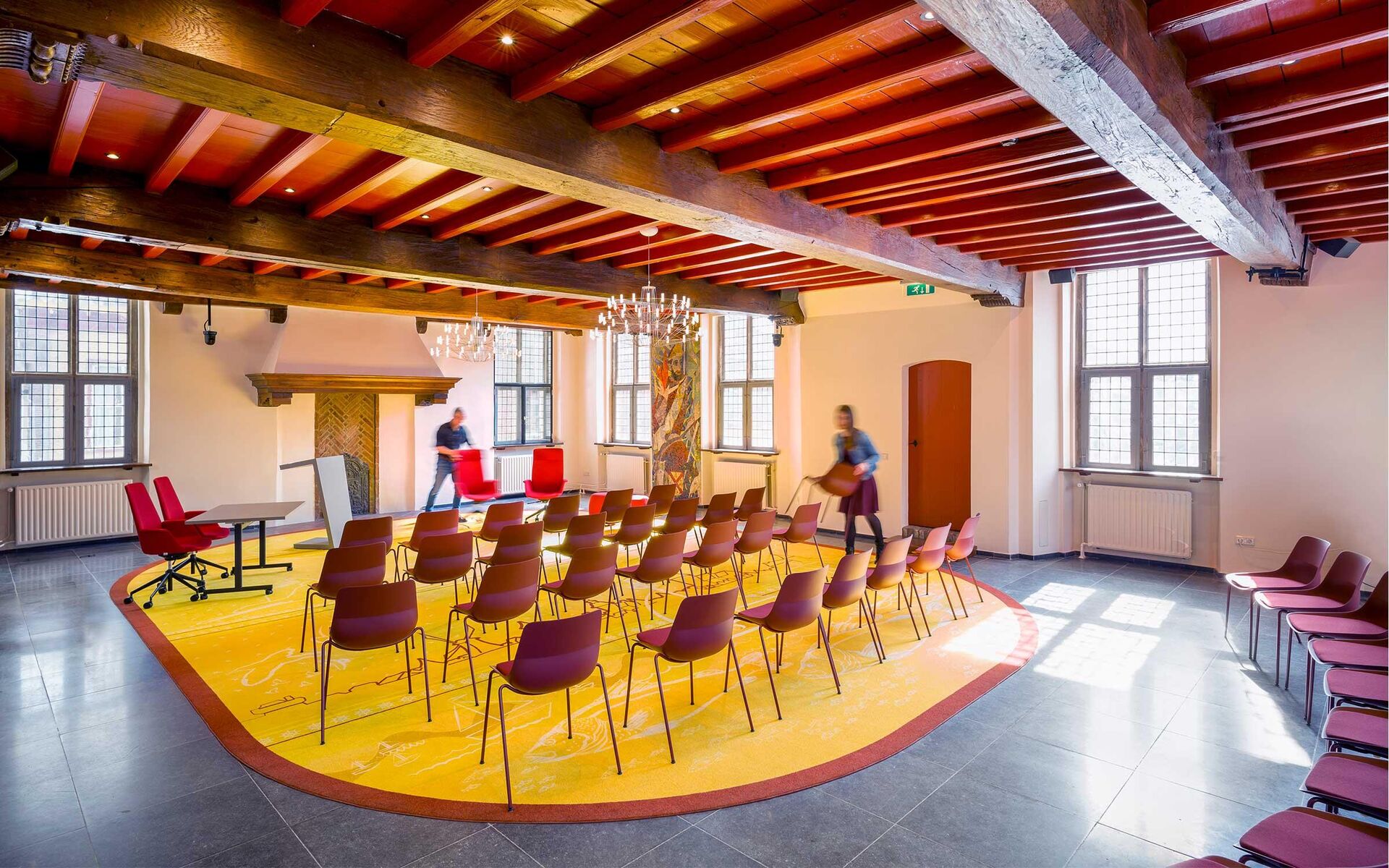 Public
Interior
Restoration
Sustainability
The monumental Gennep town hall, dating from 1620, has been restored. BiermanHenket drew up the restoration and development plans and managed their realisation. The first objective was the council chamber, which has undergone a complete metamorphosis. The historic chamber has been restored sustainably and furnished with purpose-designed furniture that can be adapted to multifunctional use. The huge rug is the eye-catching feature of the chamber, depicting the rich history of the town.
Work on the interior and the exterior was carried out in stages, partly in order not to disturb the locals: a pair of storks has chosen the chimney for their regular nesting site. Roof work was therefore specifically planned outside the storks' nesting season. The roof, the façade and the stained glass were restored and the window frames painted. The slate roof and part of the sandstone façade elements were party replaced. The spaces in the basement have been adapted for use by Monarch Foundation for Monuments and Archaeology.
Design:

2018

Client:

Municipality of Gennep

Location:

Gennep

Delivery:

2018-2020
Advisors
Van Haren Installaties
Megens Electrotechniek
Inter visual systems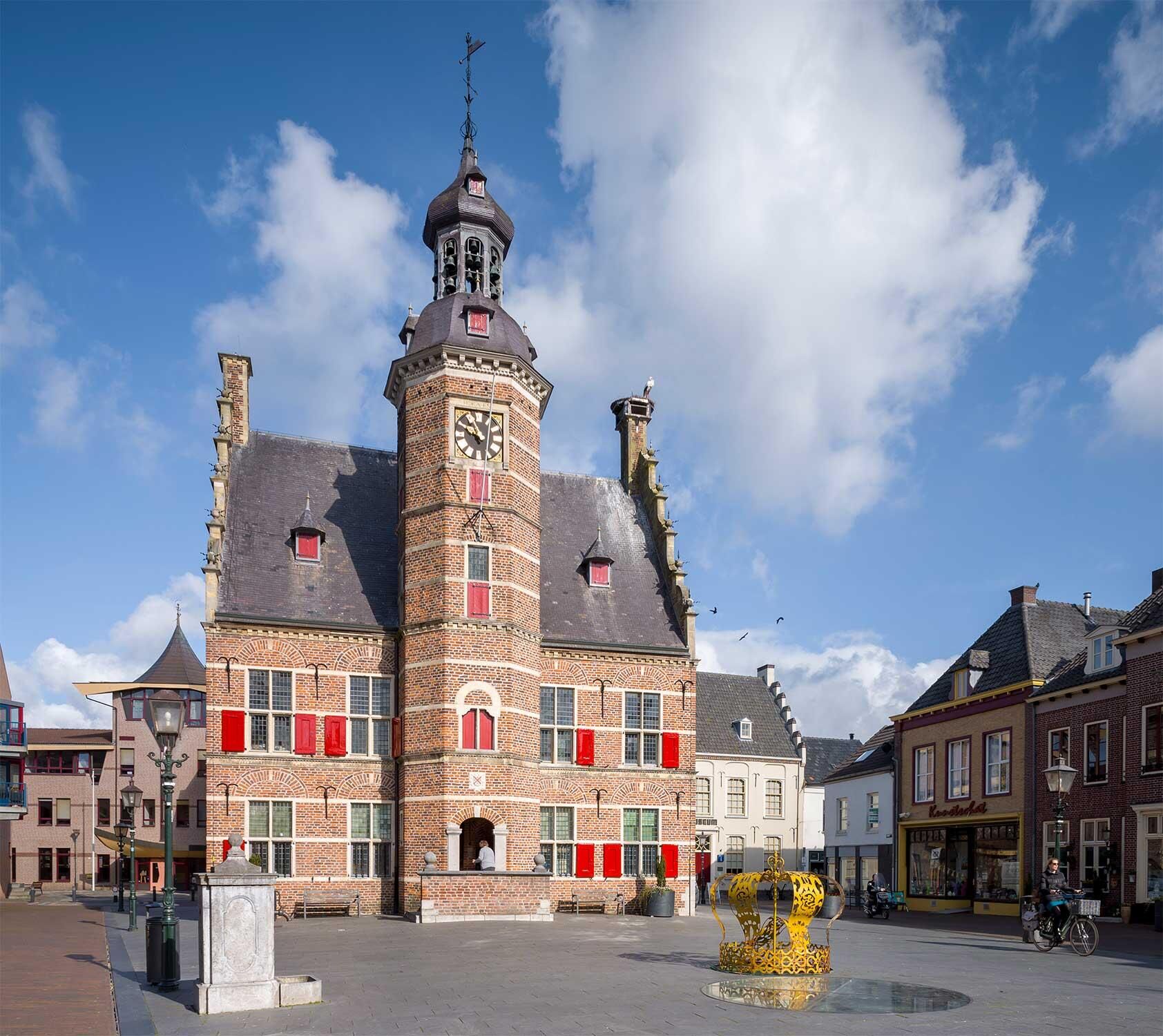 Council chamber before-after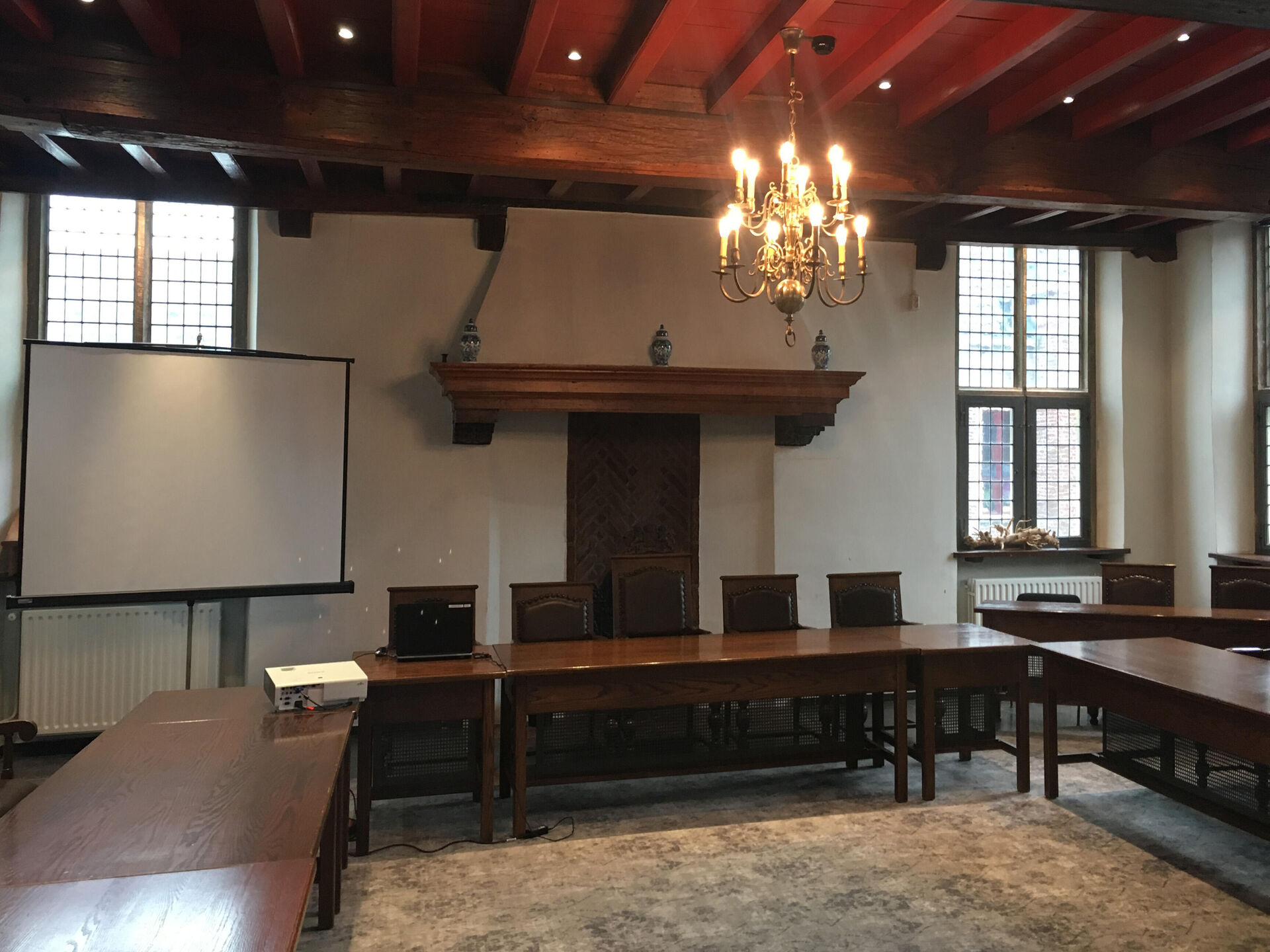 Situation before renovation
Situation after renovation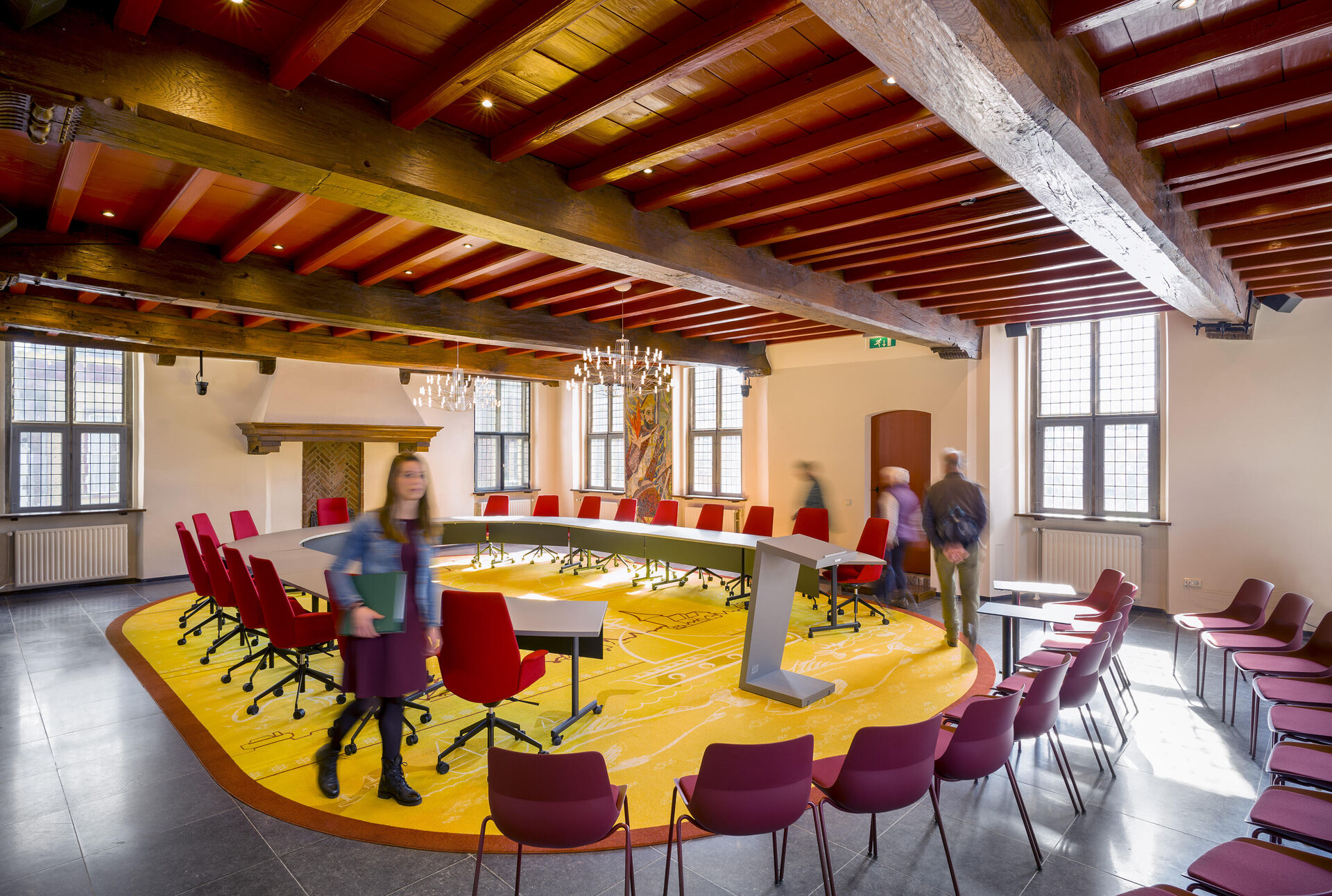 The council chamber is a multifunctional hall: it is a wedding venue as well as a council chamber and is used every year as the venue for the ceremonial surrender of the keys at the start of the Carnival feast. Of course, this is also where council meetings take place. The chamber therefore requires a flexible interior which can be used in many different ways. In addition, an extensive audiovisual system has been installed, enabling the council meetings to be live-streamed. The sanitary facilities have been modernised and amenities such as pantries and storage have been added.

A special rug has been designed for the chamber, inspired by the council archive of prints and the Gennep skyline. Even the storks who nest on top of the chimney have been incorporated. Yellow and red are the colours of Gennep.

The council chamber has been rendered sustainable, whilst taking into account the monumental character of the space. The windows have been provided with secondary glazing, LED lighting has been installed and the chamber has been fitted with a sustainable air treatment installation which has been carefully integrated into the monument.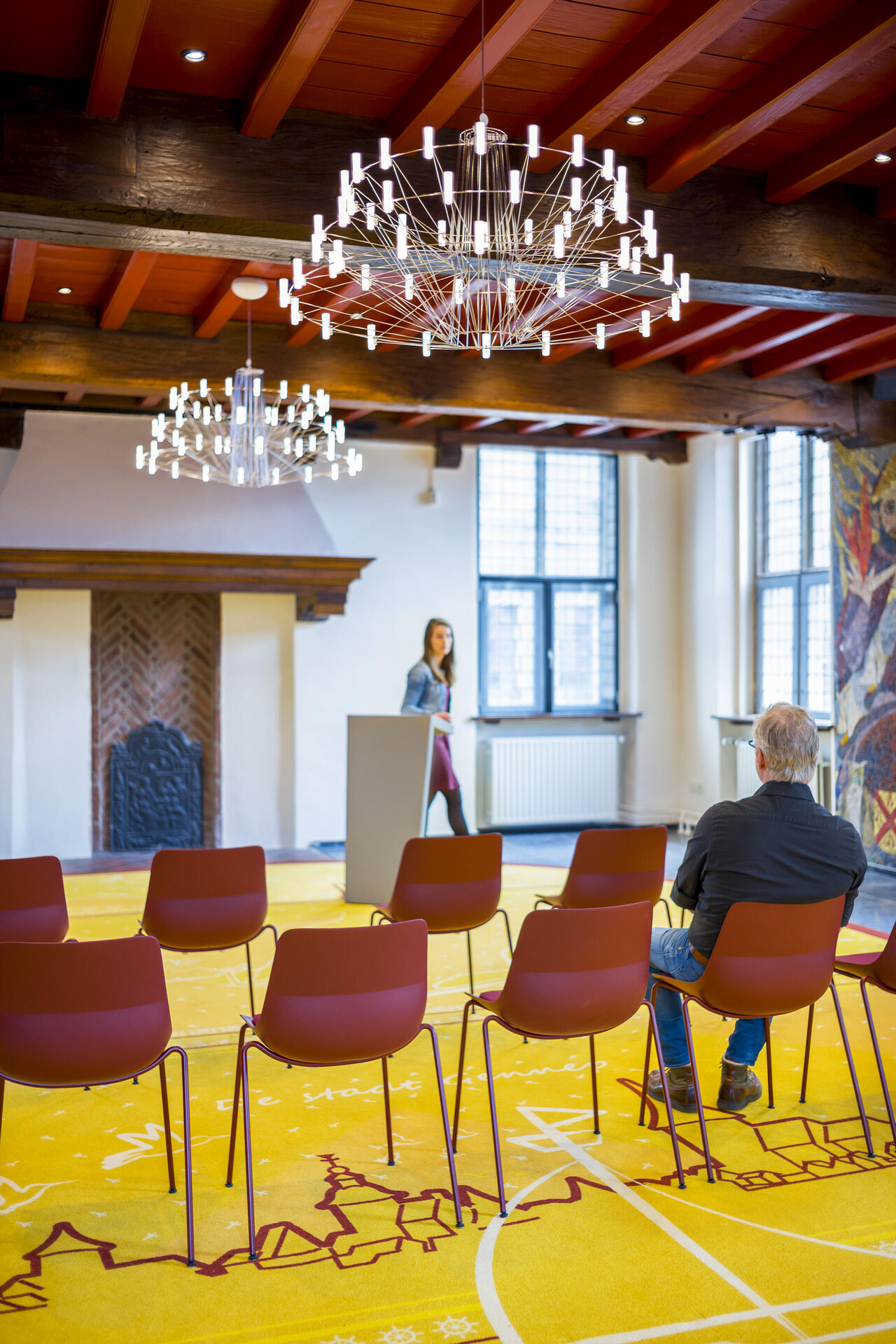 Detail of council hall with specially designed carpet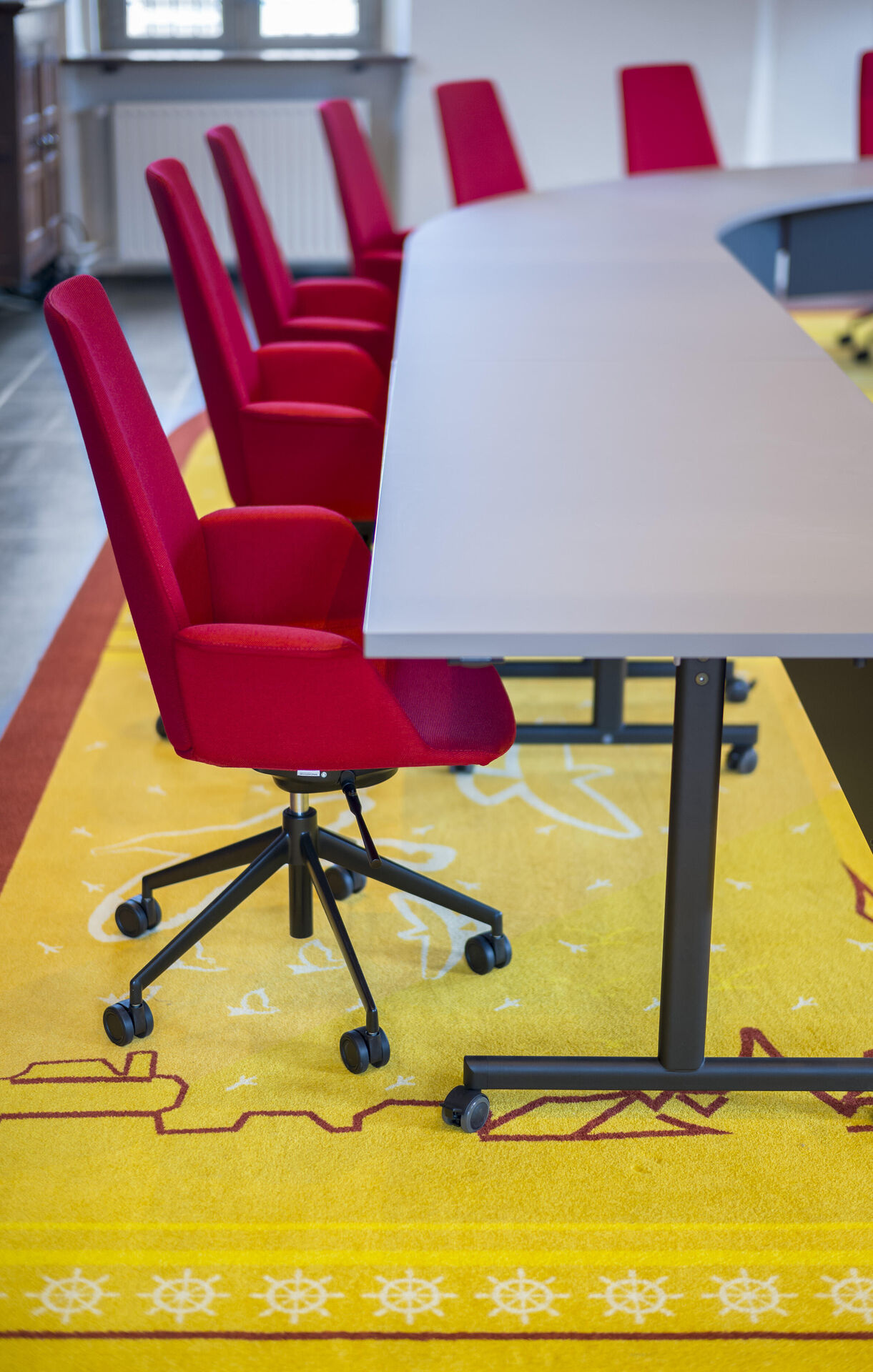 Flexible furniture council room
'The design for the refurbishment of the council chamber is based on the historic colours used in the building: blood red and ochre. The rug has been specially designed for the chamber and shows the rich history of the town.'
Yvonne Segers-van Wilderen, Partner and Project architect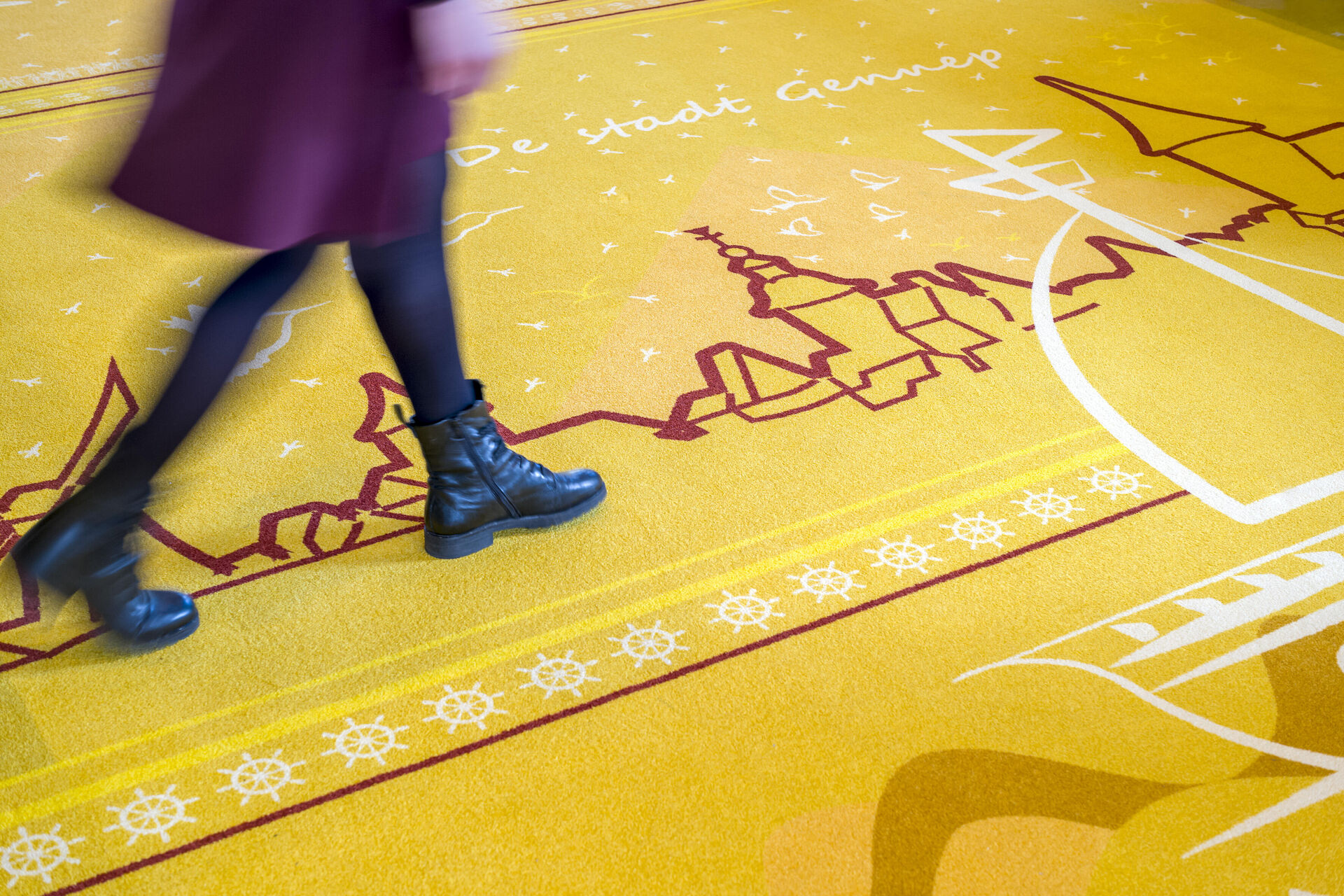 Specially designed carpet with the rich history of the city